24 Millfield athletes star at the 2022 Commonwealth Games
---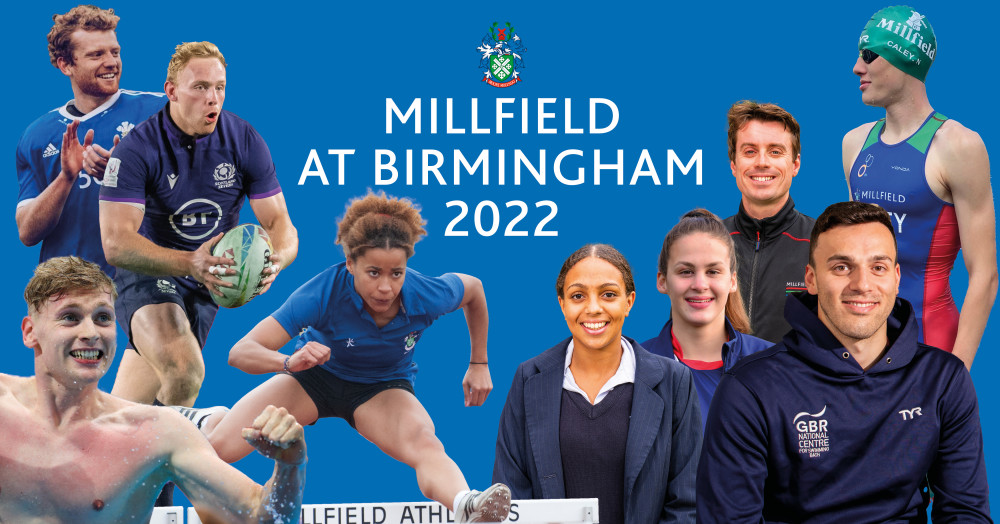 Millfield athletes star at the 2022 Commonwealth Games
An incredible 24 Millfieldians competed at the 2022 Birmingham Commonwealth Games, winning a total of 14 medals during the competition. Millfield's 24 selections hugely exceeded the 14 who competed at the 2018 Gold Coast Commonwealth Games in Australia, with the medal haul also exceeding the nine they claimed at the 2018 games. If Millfield were a country, they would have placed 15th in the overall medal standings this year, bringing home three golds, five silvers and six bronzes.
Current Lower Sixth Millfield student Jade Phiri, and recent Upper Sixth leavers Tamryn van Selm and Evan Jones all competed in the pool in their very first games. 18-year-old Evan had a games to remember representing Scotland, claiming bronze medals in both the 4 x 200m medley and 4 x 100m medley relays. Tamryn also leaves Birmingham with a medal of her own, as she formed part of the bronze winning 4 x 200m freestyle relay English quartet. At the age of just 16, Team Zambia swimmer Jade put in a string of performances beyond her years, winning her women's 50m butterfly heat, and coming second in both her women's 50m freestyle and mixed 4 x 100m medley relay heats.
Millfield's success in the pool didn't stop there. On top of the three medals claimed by recent leavers Evan and Tamryn, Old Millfieldian (OM) swimmers collected another 10 medals collectively, six of which belonged to double Olympic champion James Guy MBE. Team England star James won gold in the 4 x 100m medley relay, silvers in the 100m butterfly, 4 x 200m freestyle relay and 4 x 100m freestyle relay, and bronzes in the 200m butterfly and mixed 4 x 100m medley relay. James was joined by fellow OMs Cameron Kurle in the silver medal-winning 4 x 100m freestyle relay team and by Brodie Williams in the 4 x 100m medley relay to clinch gold. Somerset-born Brodie also collected a pair of individual medals, with a couple of stunning swims to take gold in the 200m backstroke and silver in the 100m backstroke. The Team England swimmers were joined at the games by Millfield's Director of Swimming Euan Dale and Millfield Physical Prep Lead Daniel Waddingham.
Kieran Bird put in excellent performances for Team Wales in the pool across three disciplines, narrowly missing out on a medal in the men's 4 x 200m freestyle relay with a fourth place finish. 40 years after her father represented Kenya at the 1982 Commonwealth Games in Brisbane, Imara-Bella Thorpe swam for Kenya across four disciplines, and was part of the history-making 4 x 100m mixed relay team who were the first Kenyan relay team to reach a final in the Commonwealth Games. Emma Harvey swam for Bermuda in four events, reaching the semi-finals in the women's 50m and 100m backstroke, while Tatiana Tostevin had a busy games representing Guernsey, swimming in six events, and reaching the finals in three.
On the hockey field, OM Stuart Rushmere starred in midfield for the England men's team as they claimed bronze with an action-packed 6-3 victory over South Africa. Toby Reynolds-Cotterill and Hannah Cozens represented Wales, with both achieving some great results to finish sixth and eighth in their respective competitions.
In athletics, Team England star Jazmin Sawyers jumped a season's best 6.84 metres to finish fourth in the women's long jump final.
OM triathletes Niall Caley and Erica Hawley took to Sutton Park for the men's and women's sprint distance events, representing Isle of Man and Bermuda respectively. Both put in incredible performances, with outstanding results of a 20th place finish for Niall and a 16th place finish for Erica.
In rugby sevens, Alec Coombes was part of the Scotland team who claimed impressive wins in the group stages up against Tonga and Malaysia, before falling at the quarter final stage to a very strong Fijian side.
Team Wales Netball, coached by Millfield Director of Netball Jenna Adamson, put in a couple of fine displays to defeat Barbados and Scotland, before eventually placing eighth overall.
Colette Sultana and Peter Creed represented Malta and Wales in squash respectively, with Colette bowing out in the round of 32 in the singles and doubles events, and Peter reaching the same stage in the men's singles and doubles, but making it to the round of 16 in the mixed doubles.
In the velodrome, England's Milly Tanner and Scotland's Lauren Bell raced in four events in track cycling, with both reaching the finals of the women's Keirin.
The school now turns its attention to the 2024 Olympics Games, where it is set to see many more talented sports students follow the Olympic pathway to compete in Paris.