Street motorbike racer finishes fourth in championship
---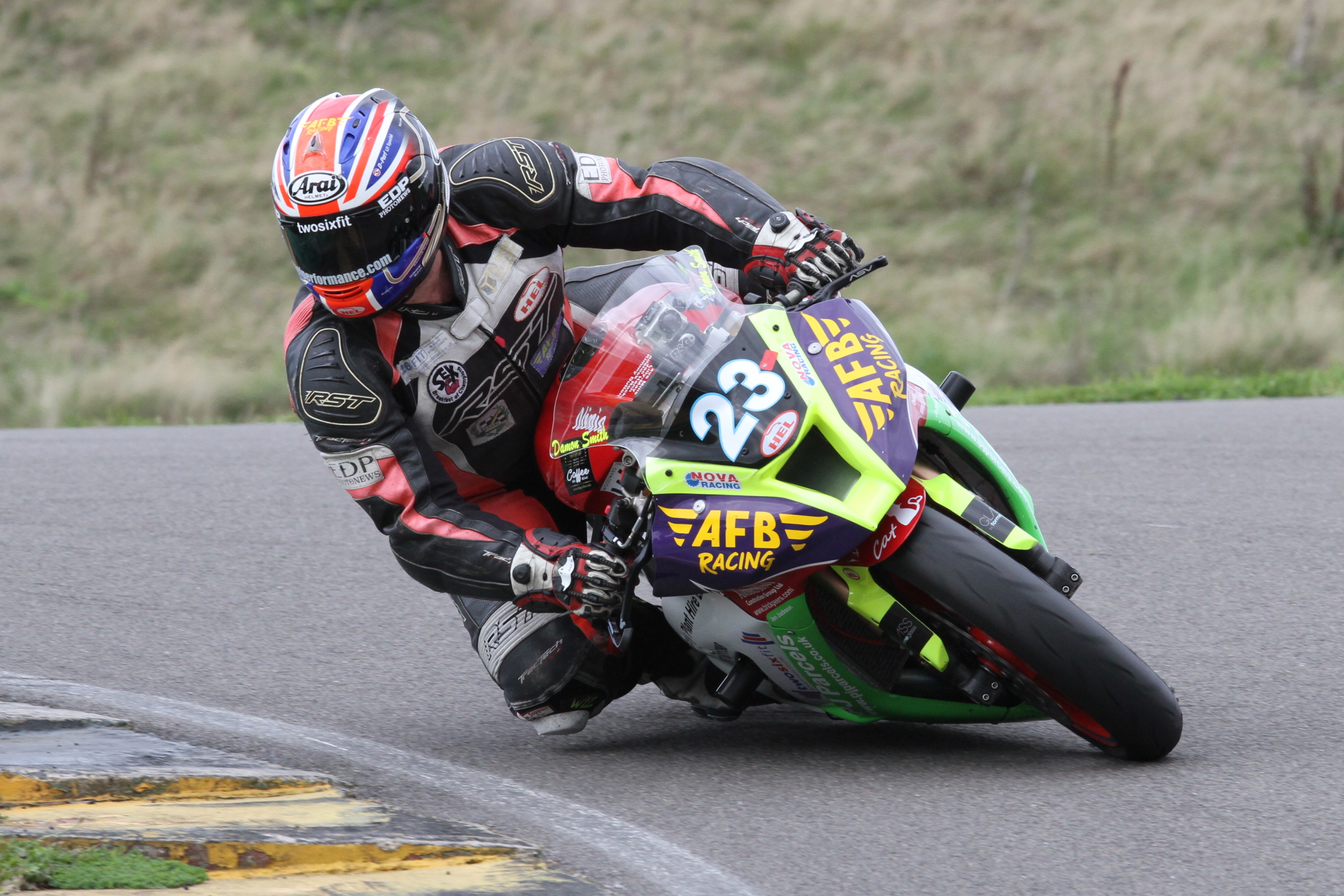 Pictures: Gordon Brady & Ian Young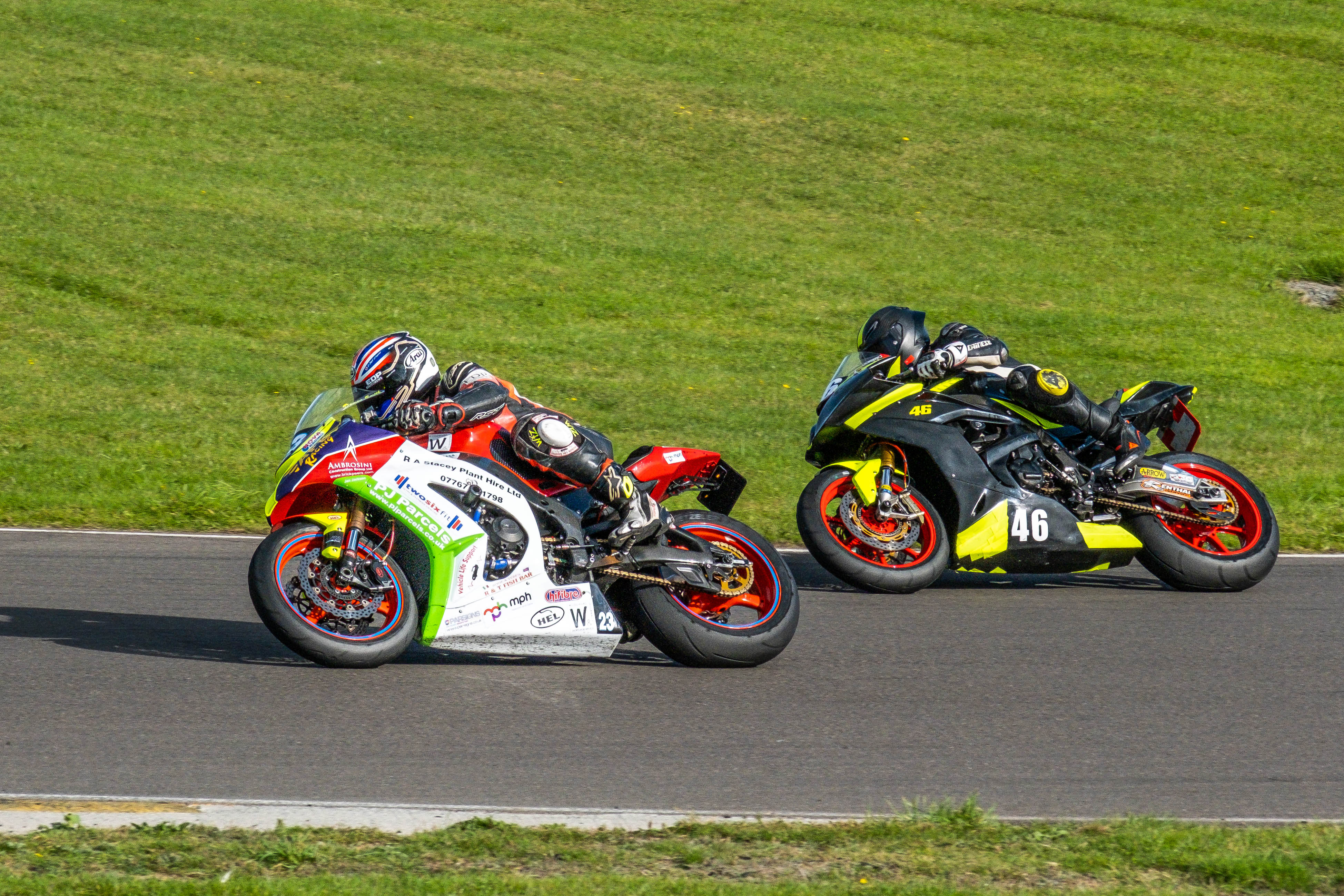 Pictures: Gordon Brady & Ian Young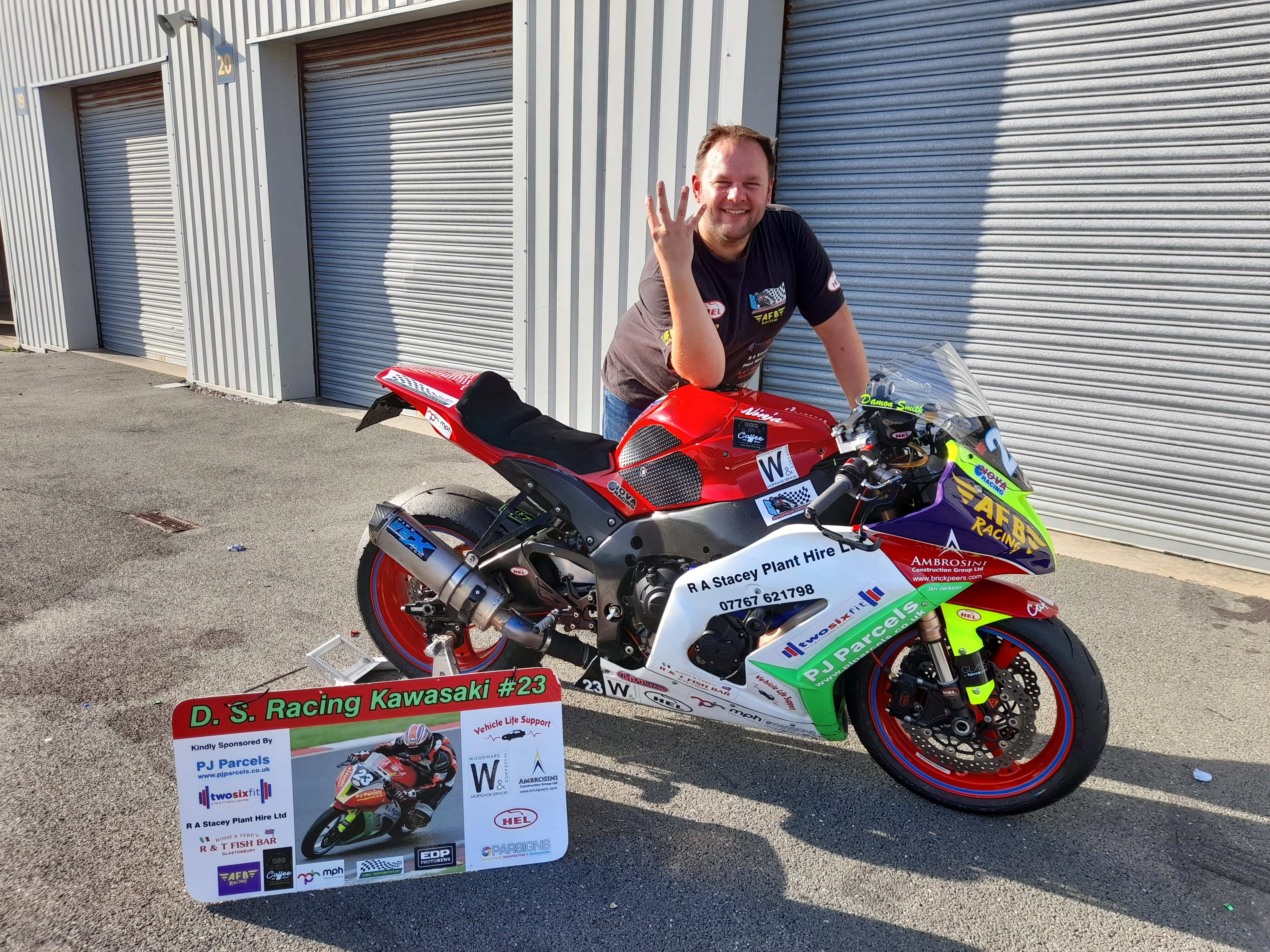 Pictures: Gordon Brady & Ian Young
Street-based motorbike racer Damon Smith has finished fourth in the NG Road Racing Championships after the final round at Anglesey Circuit / Trac Môn, North Wales .
Damon said: "Before we even left Somerset, we had a bulging tyre on the caravan which we had to quickly find a replacement and change in Bridgwater.
This weekend we had my good mate Nick Vigors acting as my Crew Chief for the weekend helping out with the spanners on the bike and doing all the little jobs that I normally have to do which left me more time to concentrate on the job in hand, so it was a great help having him as part of the DS Racing Kawasaki 23 team. The last time I visited Anglesey was way back in 2017 on my old Yamaha R1 so would need some time to gain some data on the new bike and remember which way round we went ! It would be a big challenge to muscle the big 1000cc Kawasaki ZX10R around the tight and twisty track.
We entered the weekend in 4th position in the championship, 25 points behind the 3rd placed rider Ryan Jones and 17 points ahead of the 5th placed rider.
Third place overall in the championship was mathematically possible but the chances were slim. The main objective was stay on the bike and finish all 3 races to gain enough points to stay ahead of 5th placed rider Ade Walbridge on the Yamaha R1.
Anglesey Circuit, situated on the southern side of Anglesey, is a stunning natural venue perched on top of the cliffs overlooking the Irish Sea towards Mount Snowdon. The views are somewhat distracting riding around the circuit which has a mix of fast sections and very tight twisty sections.
The Friday practice day was dry although the first morning session was damp due to early morning rain. This meant we had to fit the wet wheels and tyres to the bike but on a quickly drying track, I returned to the pits to save destroying the rear wet tyre.
The rest of the day proved dry and warm and my lap times were good enough to see my Personal best lap time eclipsed at the end of the day.
Saturday morning and race day dawned fine and dry although a little cooler and with a slight cross wind for morning warm up.
Next came the 12 minute qualifying session but half way through I had to enter the pits to make some adjustments and back out again eventually setting the 4th quickest time in class, which I was pretty pleased with considering it is not one of my favourite tracks.
Race 1 later in the afternoon, starting from 12th overall on the grid (4th in class) mixed in with the quickest bikes of the club, the Powerbike class.
I started on the un-favoured side of the grid which meant getting boxed in at the first corner and I lost some places and as the race progressed I suffered fatigue and dropped to 7th place over the finish line. I was really frustrated with myself as I knew I could've done better but still good solid points.
Race 2 on Sunday morning proved a lot better. Although I started further down the grid due to my poor finish in race 1, I got a much better start and was more aggressive in the first few laps and manged to climb to 4th place holding on until the finish with a gaggle of BMW S100RR's and Yamaha R1's just behind me.
The long wait to the final race and I merely needed to finish in the points to secure the 4th place overall in the 2022 Championship. Not wanting to get mixed up in any other battles and risk crashing I played it safe and finished 7th but the race was cut short after 5 laps due to an accident which was a little disappointing as I was still chasing the pack, but that's the way it goes sometimes.
Overall we had an excellent weekend, my target has been achieved, made posituve steps all weekend, my PB laptime has been smashed by almost 2 seconds and 4th place in the NG Road Racing Streetstock 1300cc secured out of 22 competitors and the bike felt good and performed without any problems.
I would like to take this opportunity to thank all my sponsors and supporters this year, I couldn't do it without your help and backing
Andy Forbes-Buckingham of AFB Motorcycles, Simon Lane and Steve Whitear of helperformance.com, Roger Stacey of RA Stacey Plant Hire, Dan Howley of 26Fit, Paul Redmore and Judith Redmore of P J Parcels, Mark Hawks of MPH Telecom, Adi Sully of Vehicle life support, Ian Thomas of Salty's Black Gold Coffee, John Holdsworth of R&Ts Fish Bar Glastonbury Limited, Bunny Rabbetts of A303 Motorcycle Services Ltd, Mark Ambrosini and Julie Williams of Ambrosini Construction Group, Carl Woodward of Woodward Insurance and Mortgage Services Ltd, Rob Morgan of Forme Glass, Dave Clark of Hifibre race bodywork, ParSigns, Nova Racing and every single member of the Club 23 personal sponsorship scheme.
Also thanks to my fiancé Cat Barnstable who has travelled and supported me throughout the year and thanks to Nick Vigors for giving up his weekend to be my Crew Chief for the final round.
Also big thanks to Gordon Brady and Ian Young for providing the amazing images and making the long trip up to North Wales."