Up Close: Glastonbury artist Jon Minshull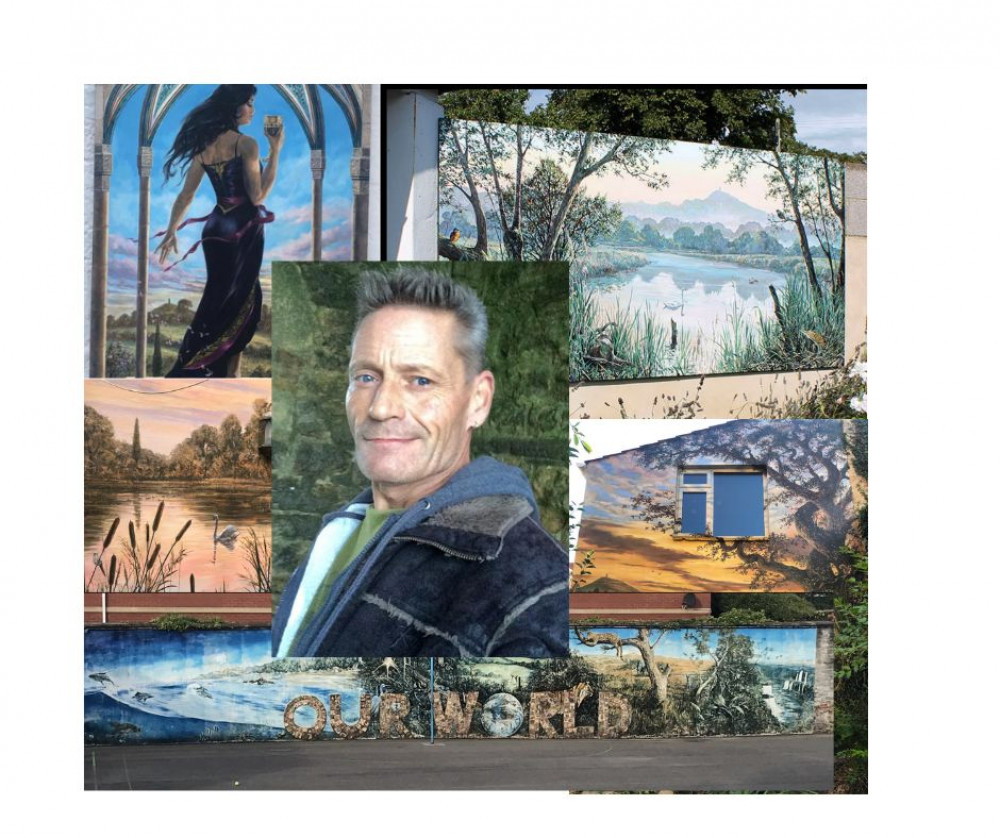 Artist Jon Minshull has created many murals in Glastonbury
Even if you don't realise it, the chances are you'll be familiar with the work of artist Jon Minshull.
Jon is one of Glastonbury's most prolific mural artists, and has created more than half a dozen of the artworks on the Glastonbury Mural Trail – including the front of the Goddess Hall. Jon's work often features landscapes, and he often uses light to create a mystical atmosphere within the work. His most recent addition to the trail is at St Margaret's Chapel and Almshouses.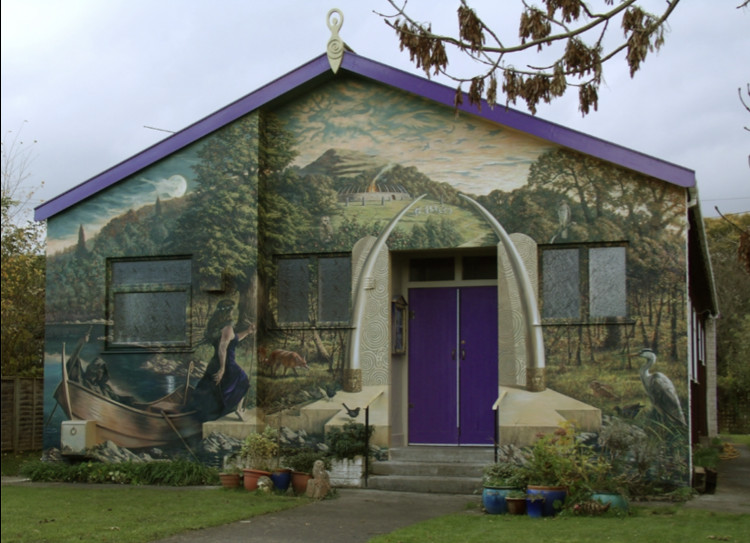 The piece of art, depicting pilgrims in an Avalonian landscape, was actually completed at the start of the year. Unusually for Jon, this piece was not painted directly on to the wall, but instead on to a large, solid board, that then needed to be attached to the building. But due to necessary repairs to the wall, to ensure it was strong enough to support the board, it was only recently able to be mounted.
"Most often walls will be specially rendered so I can paint straight on to them," explains Jon. "I don't like to work on bricks because they have a texture that means that you can't blend.
"If you work with spray paint, then the texture doesn't matter. But if, like me, you work with brushes it just doesn't work.
"The theme of this piece was pilgrimage. I have tried to choose figures from different cultures to give it a global theme. There are some from Africa, India and the Middle East. I wanted to look at the whole concept of pilgrimage and the different people who might go on pilgrimages – not just Christians."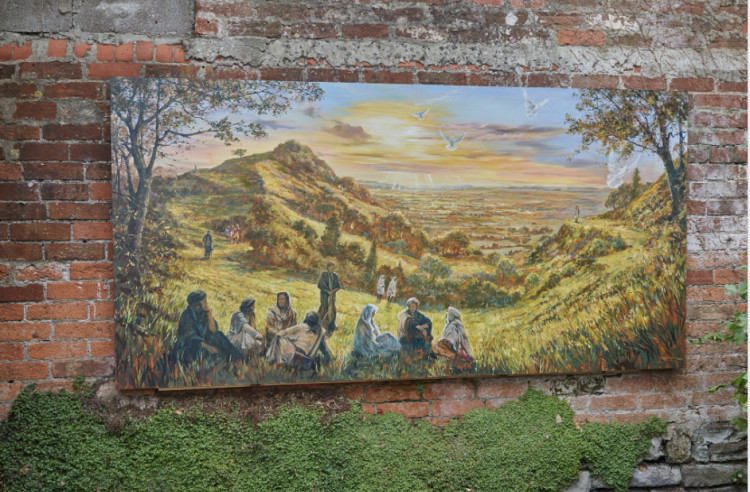 The recent addition to the mural trail on the St MArgaret's Chapel and Almshouses
Painting on such large scales can be challenging. Not only is it physically demanding, but also ensuring the whole image remains cohesive and to scale.
"Normally my subject matter is landscapes, and that gives me quite a lot of flexibility so I can improvise it on the wall," says Jon. "I do initial outlining work using a single tone – like sepia. I start with the furthest away things firstt – like the sky, then move on to the foreground, and then finally the figures."

Jon's art at St Benedict's School
Until recently Jon almost exclusively painted in oils, but he has now found another medium – masonry paint.
"I always used oils because you could blend them well. I had never used anything else. But a couple of years go my brother in the US asked me to do the front of his house. You can't use oils over there, so I had to use masonry paint – just the normal paint you'd use to paint the front of your house.
"I got a whole range mixed up in all the colours that I'd usually use in my artist's palette, and it actually worked really well.
"It was a bit tricky, because they dry a bit darker than they are when they are wet, and when you are painting a picture you have to make sure everything is the right tone so you have to compensate a bit all the time. But having got the hang of it, it works really well! They last well, and it's better than having to varnish oil paint."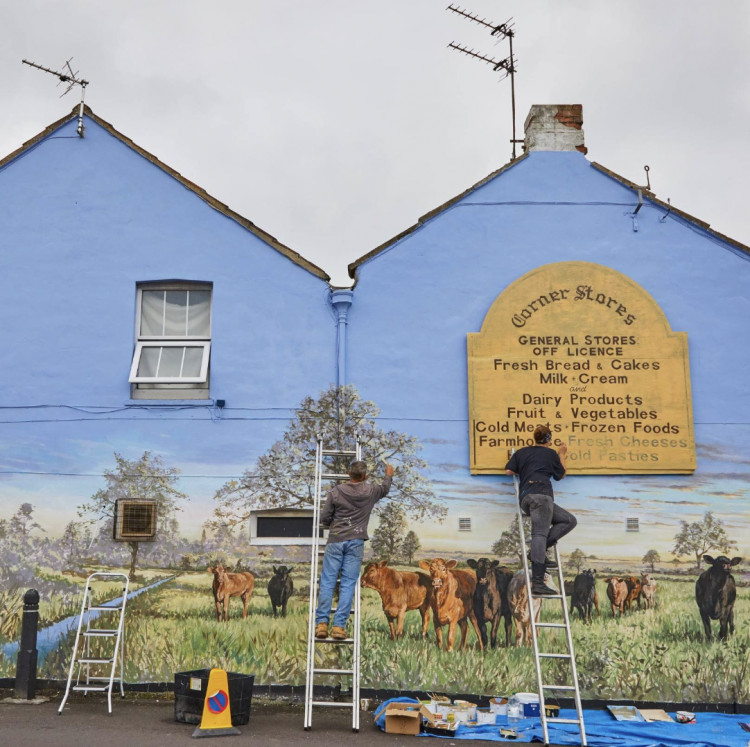 One of Jon's best known murals, on Northload Street
Jon wasn't always a professional artist. He was a teacher in Surrey, who had a sideline in painting murals in posh people's private swimming pools. Then in 2000, he decided to quit the rat race to focus on his art and took himself off to Costa Rica (much like Gaugin travelled to Tahiti). He fell in love with the country and its beautiful landscapes and bought himself a farm with several hundred acres of rainforest. He now spends several months a year in the rainforest, drawing inspiration from the flora and fauna, and the rest of the time in Glastonbury.
Jon's next project is on the front of the Sheppey Inn in Godney, where he will be creating landscape based on the Somerset Levels and Wetlands. "It will be almost as if you can see through the building," says Jon.
Although Jon is well known for his mural painting, he also does other art. Jon's work is on display in the Heart of the Tribe, so you can still enjoy his art in your home, even if you're not quite ready to commit to a whole mural!
"My main mission is to create beauty," says Jon. "A lot of artists will do social commentary etc, but I see it as my role to create beauty."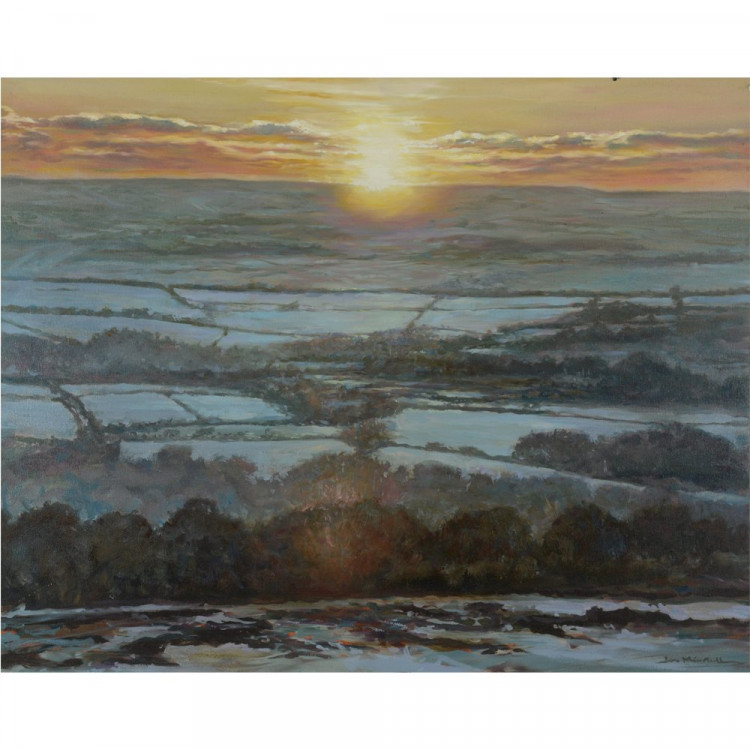 One of Jon's pieces at Heart of the Tribe
And Jon has certainly brought a lot of beauty to Glastonbury!