Damon Smith makes a clean sweep at Castle Combe Circuit despite test day crash
---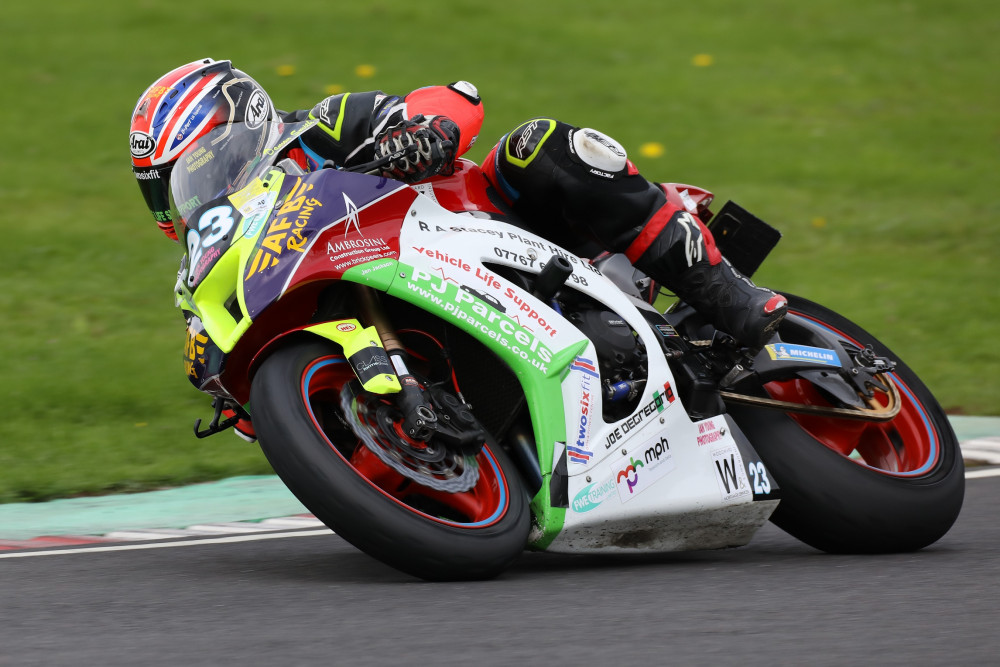 Last weekend at the fast Castle Combe Circuit near Chippenham, Damon Smith of DS Racing Kawasaki #23 made a triumphant return for the latest rounds of the NG Road Racing Championships, maintaining a 24-point advantage in the Streetstock 1000cc championship.
The test day began damply, necessitating wet tyres and suspension settings for the bike during the first session. The morning was going well until Smith hit a damp patch, causing the rear tyre to slide and launch him off the bike, landing heavily on the track. Despite the crash and some discomfort, Smith was determined to race at all costs.
The technical team worked diligently to fix the bike, which escaped with minimal damage. On race day, dry conditions prevailed, and Smith braved the pain to qualify 3rd in class, only 0.39 seconds away from 2nd place.
The weekend's race, 1300cc Streetstock category, combined with the Sound of Thunder series and Formula Prostocks, leading to intense battles on the track. Despite being in pain, Smith finished 3rd, losing 4 points to championship rival Ade Walbridge.
On the following day, race 2 began dry, but misty rain fell. Despite the challenging conditions, Smith managed to snatch 2nd place, regaining the points lost the previous day.
In race 3, heavy rain led to a full wet setup and tyres. Smith's skill shone through as he secured 4th overall in the race and 2nd in class, finishing over 30 seconds ahead of the 3rd placed rider. The weekend result was an incredible 1x3rd place and 2x 2nd places, earning 3 trophies and slightly extending the championship points advantage.
The weekend was not only a testament to Smith's determination and skill but also to the support and dedication of the technical team and sponsors. The Castle Combe medical team and NG team were also commended for their assistance.
Despite lying on the grass in agony after the test day crash, Smith's championship fight was far from over. With support from friends in the pits, partner Cat Barnstable, and sponsors like Andy Forbes-Buckingham, Roger Stacey, Adi Sullivan, and others, the dream of success continues to be alive and well for DS Racing Kawasaki.
The triumphant weekend has solidified Damon Smith's standing in the championship, reflecting the spirit of perseverance, team effort, and exceptional racing. It's a performance that will undoubtedly be remembered as a highlight of the NG Road Racing Championships season.