Sacred Oil Practitioner Course
---
29th Sep 2023 - 1st Oct 2023
UNTIL Sunday 1st October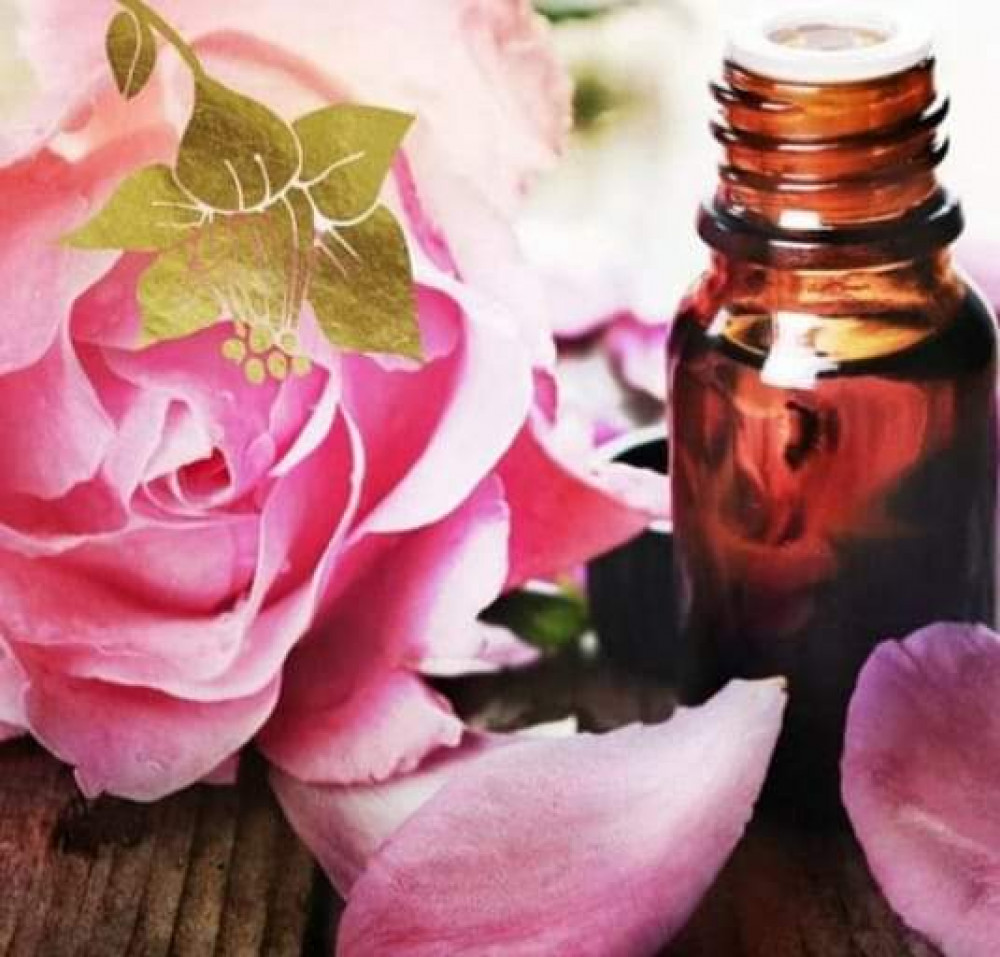 SACRED LIGHT THERAPIES
Sacred Oil Practitioner Course
Sacred Oil Practitioner working with the Ancient Oils in the Lineage of Mary Magdalene and the Myrrhophores.
(2 Day Certification Class)
29th September - 1st October 2023
Glastonbury, Somerset
'A garden enclosed is my sister, my spouse; a spring shut up, a fountain sealed. Thy plants are an orchard of pomegranates, with pleasant fruits; camphire, with spikenard. Spikenard and saffron; calamus and cinnamon, with all trees of frankincense; myrrh and aloes, with all the chief spices: A fountain of gardens, a well of living waters, and streams from Lebanon.'
Song of Songs - 4: 12-15
Sacred Oils form part of an ancient mystery school tradition that dates back 4000 years.
These oils are nothing to do with modern aromatherapy, but are powerful tools for deep transformation, healing and expanding consciousness.
Throughout history, certain oils have been used to invoke, initiate, bless and to dedicate oneself to a higher purpose.
Long ago there were women healers who worked sacredly and mystically with fragrant oils made from resins, woods, flowers and roots—these women were called myrrhophore, which means 'myrrh-bearer'. Also known as a 'mistress of the oil', the teachings that the women were entrusted with came from ancient priestess teachings going back even before Mary the Magdalene's induction into this wisdom.
Desert woman, mystic priestess, and sacred goddess, Mary the Magdalene is a powerful archetype for healing, blessing, sacred sexuality, the feminine mysteries, and the wisdom teachings of the ancients. She was a Myrrhophore who used oils to bless, heal and initiate others.
Most famous for having anointed the feet of Christ, Mary was at that time a high priestess myrrhophore who carried this lineage and taught its traditions to other women.
A woman who was initiated into this practice worked as a healer in the temples assisting others for their highest good, and for the good of the world.
The primary healing role of myrrhophores is to use sacred oils to realign people with their true soul essence, and to heal soul wounds caused by events not only in this life, but also in previous lives.
This myrrh-bearing tradition has its earthly roots in the ancient temples of Egypt, and is still kept alive by a few practitioners today. However, the oil itself is the High Priestess and gateway to the inner temple. Mary Magdalene was a myrrhophore. Isis was a myrrhophore. Cleopatra, Hatshepsut - the names are many, but the tradition is one.
The myrrhophore not only works with dis-ease in the spirit and soul but also the disharmony within the environment. She tunes in to the subtle discordance and acknowledges its unrest. Turning to the oils, and its pure expression of the Divine, she offers herself as a bridge, bringing the gift of wholeness and healing.
Originally, the work of these women was to anoint those approaching death and to prepare the way for the soul to soar. The sacred oil would realign people with their true soul essence, and carry them to the other side. The myrrhophore would hold a vigil, usually three days, whilst praying and uttering the intonation of the oil.
Now, in modern times, Myrrhophores are still healer priestesses in one form or another and are well practised in energy medicine. They use their inner vision (the eyes of spirit) to read energy fields, as well as to assess the core energetic system of their clients, so as to heal and make whole the spirit and soul.
While the Myrrhophore tradition has primarily been associated with the use of sacred oils during the dying process, it also applies to all of our big threshold moments where there is a death of the ego, death of the personality, and the death of an old way of living. These are the thresholds that humanity is crossing right now and the calling to many to reawaken this tradition is strong and relentless.
One of the first lessons that a myrrhophore has to learn is to access the nous, which is the wisdom of the heart and soul. It's the basis of everything we learn and understand in working with the soul. It's the divine intelligence that lives within us and is channelled from the Divine.
The Greeks called this metis: an intuitive intelligence that's often attributed to women. Sacred oils connect us to the energy of the Divine.
Today, more and more women are being called to this ancient tradition to reawaken the wisdom from a forgotten faith. This course offers a rare glimpse of this work.
This training stirs awake the almost forgotten path of the Myrrhophore. For many who take this course, it's an experience of reawakening this ancient tradition and accessing their inner library of knowledge and wisdom.
In these energies, I invite you to join me for:
A 2 day exploration with the ancient myrrhophore teachings as we recreate the sisterhood of myrrh bearers and learn to communicate with each of the precious oils that we will be working with, experiencing them as sacred, living spirits.
Activations and the wisdom teachings of the Magdalene will help us to connect on the deepest of levels with the oils, and with the celestial, divine energies of the universe.
The workshop will consist of sacred connection through guided meditations to bring about healing, empowerment, personal messages and an integration of the divine feminine energies within oneself.
WHO IS THIS COURSE SUITABLE FOR?
~ This course is for anyone on the path of seeking greater consciousness.
~This is for students who wish to heal with the sacred oils and become a Myrrhophore of the Oils.
~You may be already be a Massage Therapist, Reiki Healer, Aromatherapist or Energy Healer.
~You may be a Priestess Healer or Shamanka looking to add new skills.
~You may wish take this course for your own personal self-development.
~This course is open to all ages 24 and over who identify with a female experience; all ethnicities, cultures and sexual orientations. A warm and loving welcome to all who are seeking!
This is an insurable practitioners certification course, accredited by the International Practitioners of Holistic Medicine, allowing you to practice this therapy.
OVERVIEW OF COURSE CONTENT
* Daily guided meditation
* Attunement/initiation into the Lineage of the Myrrhophores
* Sacred Anointing - Suitable carrier oils for sacred anointing. What is a sacred oil? How we can help support the soul's healing with the oils
* Exploration of the 12 sacred oils used by the priestesses in the temples
* How to communicate with sacred oils
* Sacred Prescriptions
* Sacred Oil Uses and Application Methods
* A guide to the chakras and the sacred oils that have an affinity with each chakra
* Ceremony of Sacred Anointing in pairs
* How to Work with Clients
- Assessing and healing the client's energy field
- Healing soul wounds
* Beautiful aromatic FREE GIFT: Receive Mary Magdalene's Golden Sacred Oil, direct from the St Baume region where Mary Magdalene spent the last years of her life. This oil includes essential ingredients that have been blessed within Mary Magdalene's Grotto of St. Baume in Occitania, Southern France. This powerful transformative oil with the power to facilitate connection and communication, through the intercession of Mary Magdalene with the Divine, will heal the Crown chakra, awaken your Divine Feminine and harmonize and rebalance your Heart chakra.
* A beautiful 'Sacred Oil Practitioner' Certificate
Please note: This certification is for Sacred Oil Practitioner in the yrrhophore tradition for the living. This does not certify you as a death doula.
However, if you already work with the dying, this course will greatly enhance your work.
2 day course investment: £275
WHAT'S INCLUDED
All tuition, all essential oils & carrier oils
Course manual
Please note: Travel/accomodation costs/meals are not included.
Venue:
The Goddess House
28 Magdalene Street
Glastonbury
BA6 9EJ
Somerset
Times:
Friday 29th September 7.30pm-9pm
Saturday 30th September 9.30am-5pm
Sunday 1st October 9.30am-5pm
A non-refundable deposit of £100 secures your place. (Due by 1st August latest)
The remaining balance of £175 is due by 28th August.
Early Bird Discount: Early Bird Discount of £25 applies if paying in full by 5th July
Places limited to 8 to ensure personal attention and an intimate, heart-centered experience. Early booking is advised to avoid disappointment.
If you feel called, do join me for this journey into an ancient and sacred practice to help guide humanity across the threshold to the Golden Age. The world is calling you forward. To remember and expand, to serve and love. There are so many who are in need of you and your sacred and unique gifts.
Please email [email protected] with any questions and for payment details. Enrolment is now open.
Your Sacred Oil Guide
Based in Hertfordshire, Andrea is a Therapeutic Bodywork & Earth Medicine Practitioner, Aromatherapist, Reiki Master Teacher, Sacred Guide Facilitator and Myrrhophore.
She has studied and practiced complementary therapies for over 20 years and has worked with oils and plants in many different ways. She has worked internationally all over the world, including South Africa, Europe and the United States. She attended the Heartwood Institute (now The Heartwood Mountain Sanctuary) in Northern California and specialises in Holistic Massage & Aromatherapy, Intuitive Bodywork, Energy Healing, Intuitive Readings, Flower Essence Therapy, Crystal Healing, Usui & Angelic Reiki and Shamanic Healing.
She has been inspired to create programs that bridge the ancient ways to the modern woman, and to guide women to access their gifts, transform their challenges, bring desires naturally into form, connect to their unique sacred essence and live their highest soul/life purpose.
Add your Glastonbury event for FREE here!
Nub It