Tor Rugby Club's U13s welcome new sponsor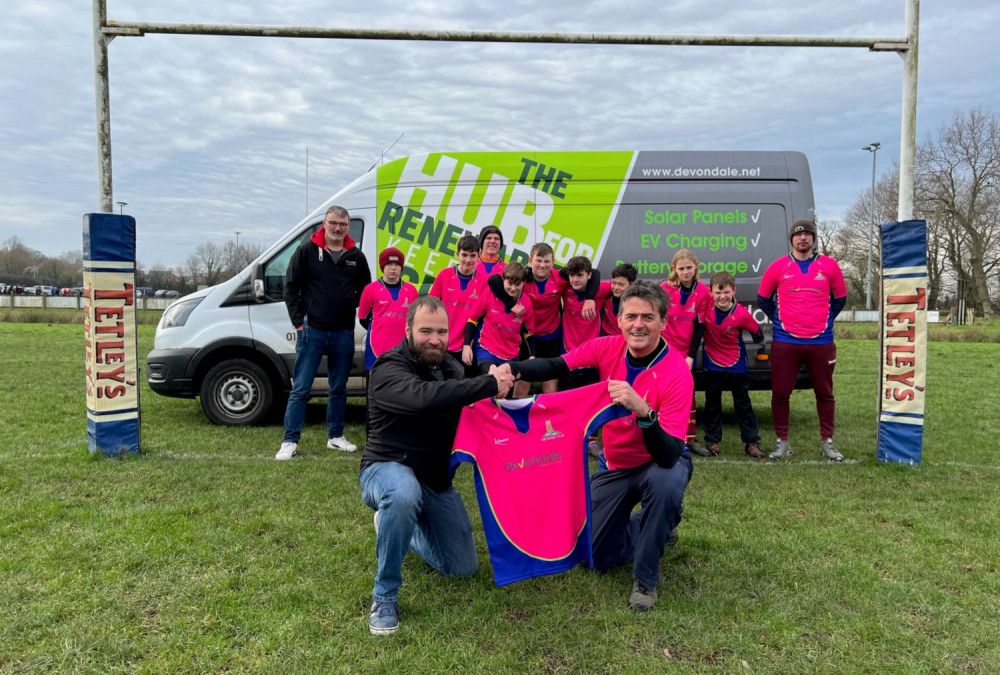 Samm Patey, branch manager at Devondale's Glastonbury branch, with Ian Armstrong from Tor Rugy Club's U13 team, and the players in their new shirts.
The Glastonbury branch of Devondale is delighted to be the new tour kit sponsor of Tor Rugby Club's U13 team.
The electrical wholesaler's sponsorship will help to support the players and their coaches, and new match day kits displaying Devondale's logo have been issued to the team.
Ian Armstrong from the Tor Rugby Club's U13 team said: "Thank you to Devondale for supporting Tor Rugby Club with its generous sponsorship. These gestures make a huge impact to a grassroots club like ours, as it helps ensure we can offer community rugby to as wide a range of children as possible."
Samm Patey, branch manager at Devondale in Glastonbury, added: "We fully appreciate the financial challenges that many local clubs face and we're pleased to be supporting Tor Rugby Club's U13s – the club is doing a fantastic job encouraging children to get involved in the sport.
"It was great to the see the team in their new Devondale shirts and we look forward to attending a match very soon. We wish the club the very best of luck for their upcoming matches – we'll be keeping an eye on their results."
Tor Rugby Club is a friendly, local community club that encourages all ages to play the sport – it currently has children playing rugby from under 3 to under 18. The club is always looking for new players, and anyone interested can email [email protected].