Somerset transport bosses decline to reveal how £1.5m active travel funding will be spent
By Daniel Mumby - Local Democracy Reporter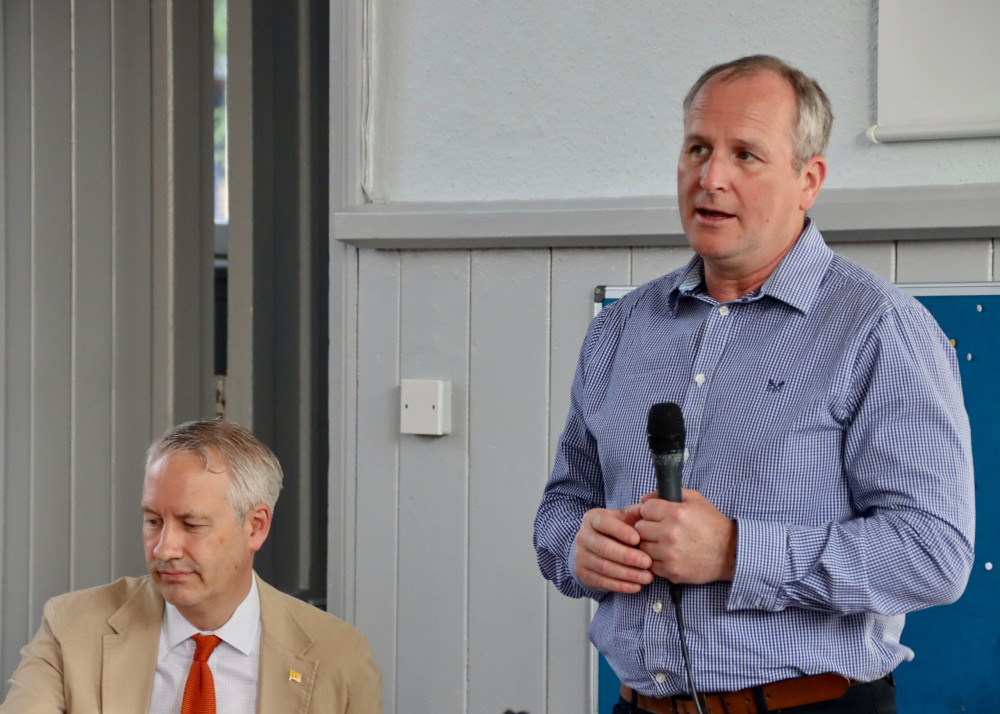 Councillor Mike Rigby, Portfolio Holder For Transport And Digital, Speaking At Wellington Baptist Church Taunton Deane Liberal Democrats 190523
Transport bosses in Somerset have declined to say where in the county government funding for new active travel routes will be spent.
The Department for Transport (DfT) announced in mid-May that Somerset would receive a share of £23.1m towards delivering new active travel routes across the south west.
Active Travel England (which is part of the DfT) has confirmed that £1,583,322 has been allocated to Somerset following a successful bid by the now-defunct county council.
Somerset Council (which replaced the county council in April) has said that it won't reveal the chosen routes until it had worked out some of the fine details with civil servants.
In a presentation to the county council's policies and place scrutiny committee in March, officers revealed that they would be bidding for £3.8m on top of an indicative allocation of £1.9m.
The council's bid focused on £5.8m for seven different routes which had been "already developed and identified" – meaning they were long-standing ambitions rather then new projects created specifically for the bid.
Since the final grant is far lower than the council's bid, and lower than the indicative allocation, it is unlikely that all seven schemes will immediately see the light of day – unless additional funding can be secured from other grants or contribution from housing developers.
Councillor Mike Rigby, portfolio holder for transport and digital, said: "We are delighted to have been awarded £1,583,322 in the latest round of funding from Active Travel England, an increase of around 60 per cent from the previous allocation.
"The submitted bid requested funding to create high-quality cycling, walking and wheeling schemes for multiple rural and urban locations throughout the county.
"We are currently engaged in further conversations with Active Travel England on the allocation, as there are some design and delivery caveats we must work through to receive the award.
"We will release a further update in the coming weeks for additional details on the selected schemes."
The council revealed in March that local cycling and walking infrastructure plans (LCWIPs) were "the primary funding document to secure capital and some revenue funding".
The council has produced LWCIPs for Bridgwater, Taunton and Yeovil to date, is currently working on plans for Burnham-on-Sea & Highbridge (jointly), Chard, Frome and Wellington (with two further towns to be added at a later date).
Mendip District Council produced its own district-wide LCWIP shortly before its abolition in April, which identified possible smaller-scale improvements to towns across the district and enhancements to the Strawberry Line.
The successful schemes in Somerset will have demonstrated that they "provide people with attractive choices to use cycling and walking for local journeys" – and do not include any low traffic neighbourhood schemes.
Across the UK, £200m will be spent over the next 12 months on active travel schemes, delivering 121 miles of new cycle track, 77 miles of new paths and green-ways, and initiatives to make streets safer around 130 schools.
Transport Secretary Mark Harper MP said: "We want to make sure everyone across the country can choose cheaper, greener and healthier travel, while we continue to support our high streets and local businesses.
"This £200m investment will improve road safety, ease congestion across the south west and on public transport, and ultimately improve the health and well-being of the millions of people choosing active travel."
National active travel commissioner Chris Boardman added: "By giving millions of people the freedom of choice to walk, wheel or cycle for everyday trips, this funding will help us improve public health, tackle climate change and give hundreds of thousands of children the independence to travel safely under their own steam.
"Now our focus is working with councils to get these schemes built swiftly. We'll be working together to ensure the projects are well designed and effective, so that they bring maximum benefits to communities and help improve lives nationwide."