Glastonbury honours local heroes in annual Civic Awards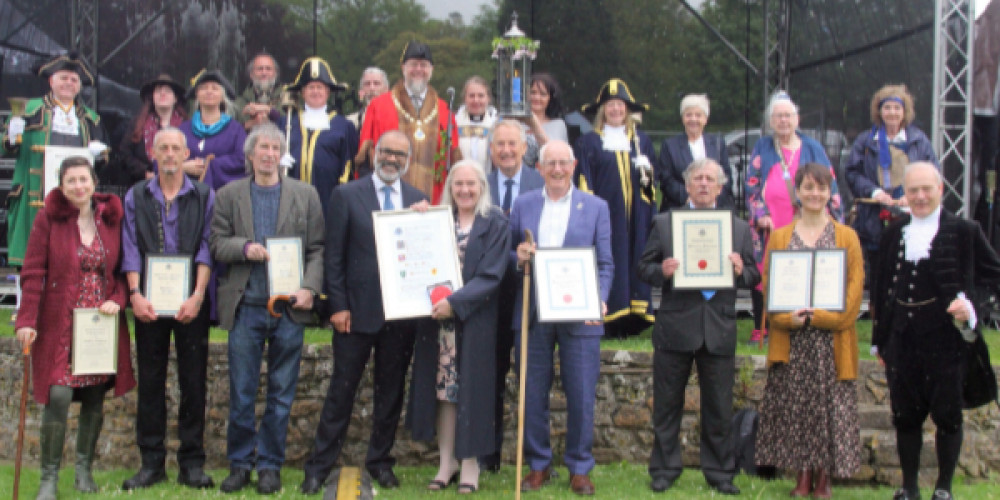 Photo Credit: Glastonbury Town Council/Mark Adler of Mendip Times
Glastonbury Town Council has recently celebrated local individuals who have significantly contributed to the town in the annual Civic Awards.
The ceremony took place during the recent Coronation Extravaganza at Glastonbury Abbey.
The awards seek to recognize those who have dedicated countless hours of unpaid work for the benefit of the town. This year, the Lord Lieutenant of Somerset, representing His Majesty the King, joined the High Sheriff of Somerset, Deputy Lieutenants, and the town's Civic Party to honor the following individuals:
Long Serving Volunteers, Chris Craig and David Beach were acknowledged for their long-term commitment to various town projects. Their continuous efforts over many years have had a profound impact on the local community.
Exemplary Volunteers, David Beach, Kim Von Coels, Liz Pearson, Laura Sorensen, and Soul Fire were honored for their outstanding contributions to the town. Their selfless efforts have enhanced community spirit and enriched the lives of Glastonbury's residents.
Honorary Aldermen titles were awarded to John Coles, John Keery, and Ian Tucker in recognition of their dedicated public service to the Glastonbury Town Council.
Meanwhile, Gina Ty-Wharton was named the Citizen of the Year 2023, an award given to individuals who have made a substantial impact on the community over the past year.
Finally, Mary Parker was bestowed the title of Freewoman of Glastonbury, an honour acknowledging a lifetime of remarkable service to the town.
The event, showcased Glastonbury's deep-rooted community spirit and the individuals whose tireless efforts keep it thriving.
The Glastonbury Town Council and the community at large expressed their gratitude to these local heroes. Their work continues to inspire, fostering a sense of unity and commitment within Glastonbury.
The Civic Awards offer a moment to pause and appreciate the tremendous work done by these dedicated volunteers, reminding us all of the power of community and the impact we can have when we come together for the greater good.