Let the sun shine - How to bring the great Glastonbury outdoors inside
Bringing the outdoors into your home interiors is a popular way to make a stronger connection with nature at home, and around here it would be rude not to.
---
---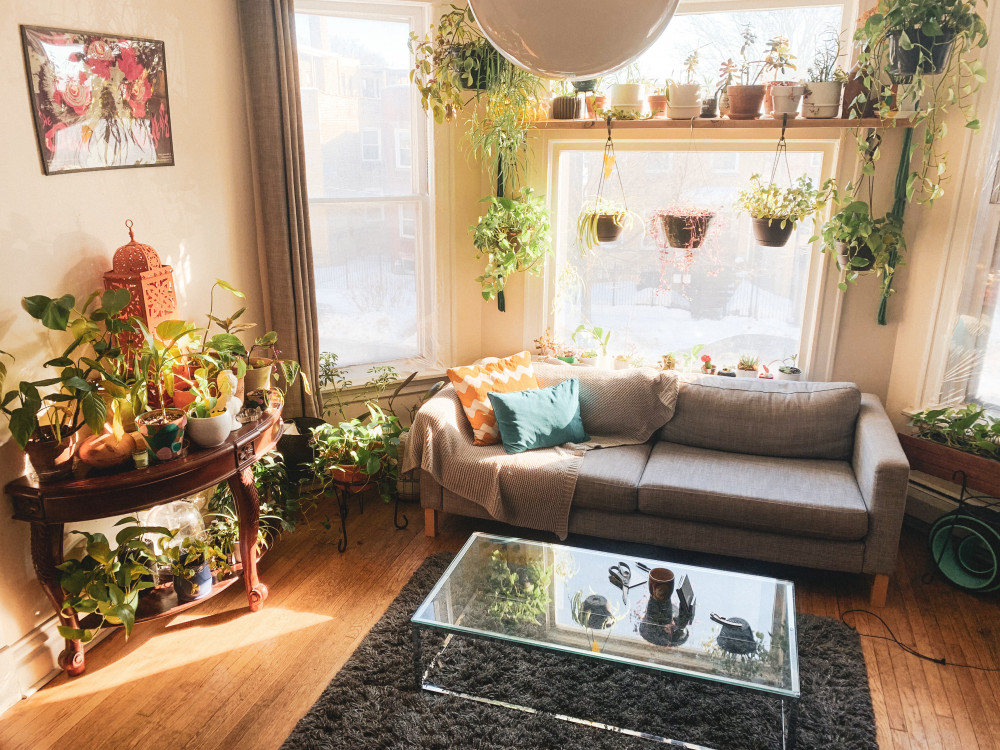 The Somerset countryside is too good to keep outdoors.
The Glastonbury countryside is one of Britain's greatest treasures. Even the light that shines in the sky is a little bit special; there's nothing quite like a Somerset sunset. Bringing the outdoors into your home interiors is a popular way to make a stronger connection with nature at home, and around here it would be rude not to!
These simple decor and design ideas will bring the best the outdoors has to offer into your living spaces.
Bringing In The Sun And Stars
The first and arguably the most important step to bring the outdoors in is doing anything you can to add natural light to your living spaces. Sunlight has the incredible power to open up a room, highlight design details, and create an airy, cheerful atmosphere. It is a perpetual reminder of the outside world, drawing our minds to green fields, blue skies, and warm summer days.
To make the most of this free and abundant resource, consider incorporating more windows into your home. Roof skylights add natural light and ventilation across a wide area, and are the ideal solution for adding light to darker living spaces and avoiding having to rely on artificial light sources.
There are roof skylights to suit every style of home at www.roofwindowoutlet.co.uk. Roof Window Outlet offers nationwide delivery and a money-back guarantee giving you a range of windows that you can buy with confidence. Using roof skylights to bring in sunlight creates a bright and natural ambience that reminds you of the beautiful world outside, even when you're indoors.
Eco, Environmental And Elegant Furnishings
Furniture made from sustainable, natural materials can add a distinctive touch of the outdoors to your indoor spaces. This can encompass a wide range of materials from reclaimed wood, bamboo, and rattan to even recycled metal and glass. The rustic, raw, authentic charm of this type of furniture blends form and function, turning your seating and casual tables into a part of an artistic, aesthetic ensemble.
Reclaimed wood furniture adds a rustic aesthetic that seamlessly bridges the gap between indoor and outdoor spaces. Each piece has a unique character and history, often featuring intriguing knots, grains, and textures that bring in nature's beauty.
Bamboo and rattan furniture have been growing in popularity due to their sustainability and lightweight properties. Their warm hues and intricate weaves add a tropical, airy feel to any room. Recycled metal and glass pieces can be used as a modern twist on sustainability. Their sleek lines and surfaces make a striking contrast to softer, organic elements, while still maintaining a connection to nature.
Using The Raw Power Of Natural Materials
Infusing your home with natural textures is a powerful way to create a sense of the outdoors, inside. This technique can transform your living spaces into a serene and natural sanctuary, grounded in the essence of nature.
Introducing wooden elements into your decor is a good start. Different grains and colours give you a wide range of options to use as a natural accent to your existing decor. Wooden flooring and furniture can lend a soothing, rustic feel to your living spaces.
Stone, another earthy material, is perfect for creating striking feature walls or elegant countertops. Its natural variations and patterns make each application unique, adding depth and character to your rooms. You might also consider incorporating pebble tiles into bathroom designs for a spa-like atmosphere.
Don't overlook softer materials such as jute, cotton, and wool. Natural fibre rugs, cushions, and throws can add warmth and cosiness while maintaining that connection with nature. Mixing and matching different textures from nature lets you can create a tactile environment that not only looks good but feels just like the outdoors.
Natural Tones For Earthy Homes
The palette of nature offers a rich source of inspiration for indoor colour schemes. Earthy tones, natural patterns, and light sky colours can all be used to transform your living space into a haven that brings in the peace and quiet of the outdoors.
Begin with the basics; neutrals. Browns, beiges, and greys derived from wood, stone, and soil provide a versatile base for your interior decor colours. Walking through the living room can take on an air of strolling through a forest or field. Use light blues or off-white colours with a hint of blue or yellow to accent the space. This can be used on ceilings or friezes to add a bright natural sky-like effect to cap off an outdoor-inspired living space.
For pops of colour use the vibrant hues found in local flora and fauna. Leafy greens and floral shades like pink and purple can be used to paint statement furniture, and as wall paint or for smaller decor items to bring a lively touch of nature inside.
Bringing the outdoors in is all about connecting with nature and embracing its beauty in our living spaces. Letting in nature creates a sanctuary for the whole family that both comforts and invigorates. Give your home a whole new look and feel with these natural style ideas and let the sunshine in your home all year long.
The Somerset countryside is too good to keep outdoors.