Why Somerset residents could soon see their bin collection dates change
By Daniel Mumby - Local Democracy Reporter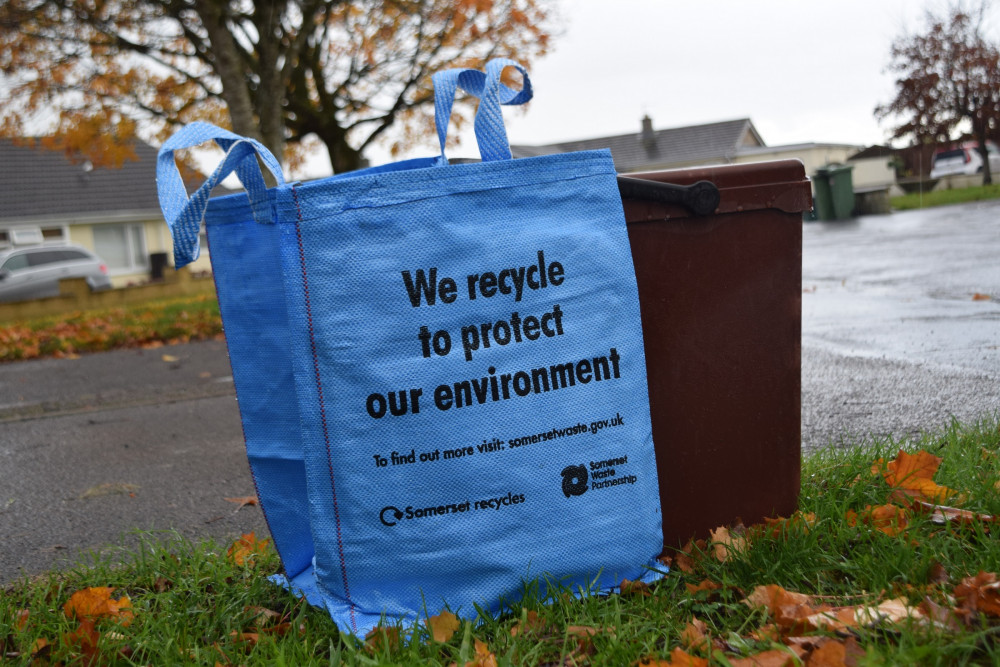 A Bright Blue Bag And Food Waste Caddy Ready For Kerbside Collection. CREDIT: Somerset Waste Partnership. Free to use for all BBC wire partners.
Large numbers of Somerset residents could see their bin collection days change as part of a shake-up of the county's waste services.
Somerset currently enjoys weekly kerbside recycling collections following the implementation of Recycle More between June 2020 and February 2022, with refuse collections moving from fortnightly to once every three weeks.
Somerset Council – which assumed control of the county's waste services in April – has announced plans to change the collection dates for the majority of households in a bid to cut costs and make collections more "efficient, manageable and reliable".
The changes, if approved by the council's executive committee, could begin to be rolled out from February 2024.
Recycle More was originally rolled out using the boundaries of the four former districts, with the former Mendip area being the first to receive the new service and the former West Somerset area being the last.
This model, according to the council, had led to "substantial routing inefficiencies", with its contractor Suez having to put in additional resources to ensure all bins could be collected.
The current collection routes are operating at "maximum capacity", meaning there is little flexibility for vehicle breakdowns or extreme weather (such as heatwaves or storms) which has resulted in large numbers of missed collections.
The council said that Suez's waste crews were "working under exceptionally difficult circumstances" and that making changes would improve working conditions as well as cutting carbon emissions.
Under the proposals, collection days will be changed in two phases, focussing on different sides of the county.
Phase one, which could be implemented in February 2024, will see collection days change for more than 122,000 households in the western half of Somerset – amounting to around 85 per cent of households in the following areas:
The former Sedgemoor district (including Bridgwater, Burnham-on-Sea, Cheddar, Highbridge and North Petherton)
The former Somerset West and Taunton district (which includes Minehead, Taunton, Watchet, Wellington and Williton)
Some sections of the former South Somerset district (which includes Chard, Crewkerne, Ilminster, Wincanton and Yeovil)
In phase two, which could begin in June 2024, a further 96,000 households in the east of the county will see their dates change – specifically those living in:
Some sections of the former South Somerset district
The former Mendip district (which includes Frome, Glastonbury, Shepton Mallet, Street and Wells)
The precise breakdown of which settlements will be included in which phase has not been made public.
The changes will not affect collections from schools or communal properties, and garden waste collection dates will also not change.
Mike Cowdell, the council's strategic manager for waste services, said that affected households would receive direct communication informing them if their collection dates would change at least six weeks prior to the new dates being implemented.
He added: "The purpose of the change in collection days is to allow Suez to make their service offering more efficient, manageable and reliable.
"The main objective of the proposal is to afford Suez the opportunity to optimise their routes, to reduce the amount of fleet and staff required to service the contract.
"By having more efficient routes, Suez anticipate a significant reduction in overtime costs as well as a reduction in fuel costs and associated CO2 savings."
The council believes switching to the new routes could reduce the CO2 emissions associated with its waste collection services by around 185,000 tonnes per year – with up to six waste vehicles not needing to be deployed on a regular basis.
These proposals come shortly after the council declared a financial emergency, with councillors and officers warning of a £100m budget gap caused predominantly by rising demand and expense on children's services and adult social care.
The council said that the proposals to change bin collection dates had been explored before the financial emergency was declared in early-November, and were not solely motivated by the need to save money.
A spokesman said: "The re-routing was in the works before the financial emergency was declared. It's about making routes more efficient, more manageable for crews, and less carbon intensive as well as more cost-effective.
"This change will not result in other aspects of our contract with Suez being renegotiated."
A final decision on the changes to bin collections dates will be taken by the council in the coming weeks.