UP CLOSE: Paul Manning, owner of Blue Cedar Print Works in Glastonbury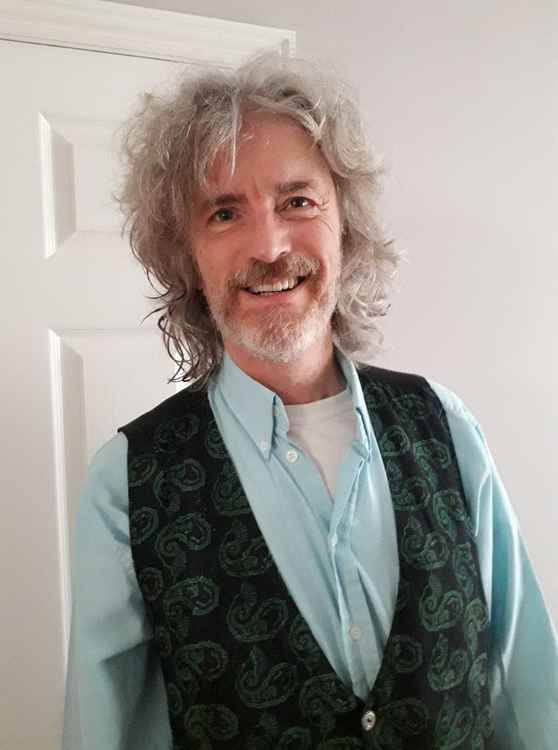 Paul Manning during lockdown November 2020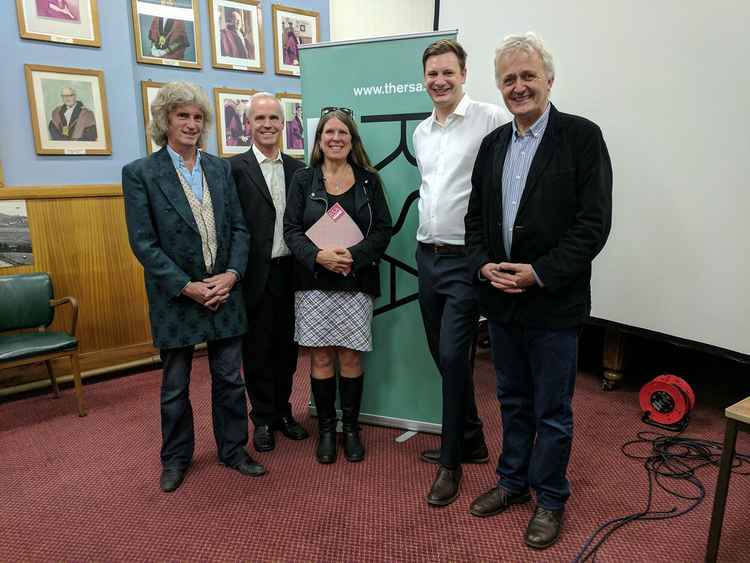 Group photo taken at a meeting at Glastonbury Town Hall to establish a bank in the South West in October 2017 with Paul Manning pictured on the left
Glastonbury Nub News aims to be supportive to every element of the town's community from business and shops to people and charities, clubs and sports organisations.
Everyone is finding it tough at the moment and is desperate to get back to normal.
We are profiling some of these local businesses and groups regularly over coming weeks in a feature called UP CLOSE IN GLASTONBURY in the hope that we can be a supportive springboard for their full return to business as usual.
Today we talk to Paul Manning, the owner of Blue Cedar Print Works in Glastonbury, who shares his thoughts on living in the town and what aspects he would like to see change.
During a Q and A session he also talks about the ethical banking project that he is involved with.
Have you always lived in Glastonbury and, if not, what were the key considerations about moving here?
I have lived in Glastonbury for the past 18 years. Prior to that, I was living in a cottage on the other side of the Mendips, and with a pregnant wife, we needed a larger house close to amenities.
Tell us a bit about your personal business background Paul and how you ended up running Blue Cedar Print Works?
I spent many years working for Lloyds Bank and for others in the corporate world. Following my move to Glastonbury, I set up a business developing and selling light-up clothing into the equestrian market.
In 2010, I needed to find some premises in town as I could no longer work from home. The premises I found, was a former children's play centre and quite large for what I needed, my original plan was to have it as a showroom, but a friend persuaded me that it would be a great place for a gallery and cafe.
Blue Cedar Art Cafe was born, and shortly after taking on these premises, the premises next door (where the Robert Barton Trust were situated) became available, so I set up Blue Cedar Print Works in there. I have always been quite IT literate, and already had a large format printer.
What do you like about Glastonbury? How are you involved in the local community?
The history. The people.
I am currently acting chairman of Glastonbury Chamber of Commerce. I was chairman before for three years, I had stepped down but was asked to take over again during the first lockdown as the current chair has a hospitality business and it was obviously a very difficult time.
I am also a trustee of Beckery Island Regeneration Trust and St Margaret's Chapel. I was one of the Friends of Tor Leisure who were able to get the playing fields protected in perpetuity for recreation and leisure usage.
In the past I have been on the Scout committee and was also vice-chairman of Glastonbury Football Club. I am also a member of Glastonbury Conservation Society and Glastonbury Antiquarian Society.
The coronavirus pandemic has had an impact on many businesses and organisations - what are your plans?
With regards to my business, we have closed the gallery and made the printing side click and collect - so customers order online or via email their prints which are either delivered or made available for collection off the premises. We are lucky that we have one of the largest online galleries in the South West with more than 130 artists and 2,000 works on www.bluecedaronline.co.uk.
The chamber of commerce is still functioning, we have recently acquired our own Zoom account and will be using this to deliver support and training.
What other businesses do you like and use in Glastonbury?
Glastonbury Galleries are a long-established framers, and Ruth Morland, the owner, has an excellent eye for choosing the most appropriate frame for any image. AWG Curtis in Benedict Street is a lovely business, not only do they have a surprising large range of stock, but they are very helpful.
The lockdown has been very difficult for many people - how do you think that Glastonbury as a town has coped?
I have never seen a challenge like the current times before. This is a town that's main industry is tourism and is renowned for its live music and events.
So while we suffered heavily during the first lockdown, there was a bounceback when it was lifted with an increase in UK tourists having a staycation. At some point a new normal will be established, and I am certain the town will adapt to that.
If there was one thing in the town you would change, what would it be?
Only one thing, so I can't mention the town centre 20mph speed limit or the need for the town council funded PCSO! It therefore has to be Tor Leisure.
Tor Leisure has suffered for years from a lack of investment, to the extent that it was only residents of the town using their own time and expense to get the tennis courts back into action this summer. It is really important in these Covid times for people to be fit and healthy.
Likewise, Tor Leisure should be open for the whole town to reap the benefit. Maybe this is something that the Towns Fund money could assist with.
You have been involved in a number of events in Glastonbury - what has been your favourite one and why?
It has to be the campaign to publicise the closure of all of the banks in town in a short period. It was a very successful campaign, mentioned on BBC Breakfast, with interviews on Radio 4 and in various national newspapers.
Glastonbury has some truly talented creative people which helped to make this campaign great fun. If you look up Crazy Horse Bank Glastonbury on YouTube, you'll see the brilliant film created by Kevin Redpath and probably the biggest bank queue since the run on Northern Rock.
I can't mention this campaign without thanking the local businesses, particularly Fragrant Earth, and also Glastonbury Town Council who gave this campaign so much support.
As well as the above it is also my favourite for two reasons. It showed what can happen when people have a common cause. It led directly to the formation of Glastonbury Chamber of Commerce: it also highlighted the need for a different type of banking.
You not only run a business in town, but are involved in an ethical banking project. Can you tell us about that?
With the campaign creating ripples, Glastonbury was chosen as a venue for a meeting to discuss the establishment of a new type of bank in 2017. About six months later, I became a founder member of South West Mutual and later on, a non-executive director of this would-be bank.
We are currently in the process of getting a banking licence and have had some very productive meetings with the FCA and PRA. We are looking at becoming operational in 2022.
South West Mutual will not be like other banks for a variety of reasons: we shall be owned by its members; we shall be regional (all of our members will have close links to Somerset, Devon, Dorset, or Cornwall); we shall try as far as possible to reinvest our money in the South West region; we shall not be paying stratospheric salaries and bonuses (our highest paid employee will not earn more than 10 times the salary of the lowest paid - in other banks, this figure is often in excess of 100 times); we shall have a branch network as well as having an online offering; and, we have a conscience - we want to give access to banking to those excluded by the big banks as these people often lose out financially as a result of these actions. You can learn more about our plans at www.southwestmutual.co.uk.
You can check out the Blue Cedar Print Works website here.
Would you like to be the subject of an UP CLOSE profile or do you know someone who we should feature? Contact [email protected].