Rules for new Somerset planning committees "undemocratic and unworkable"
By Daniel Mumby - Local Democracy Reporter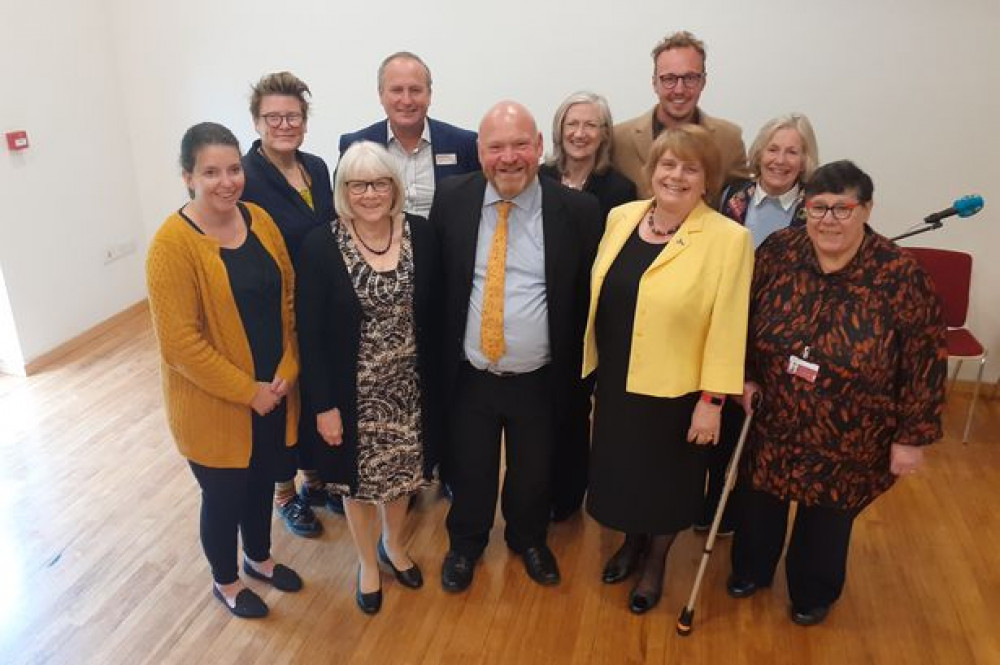 The New Somerset County Council Executive
The proposed rules governing Somerset's new planning committees have been slammed as "undemocratic and unworkable" by councillors and residents alike.
Somerset County Council and the four district councils – Mendip, Sedgemoor, Somerset West & Taunton and South Somerset – will officially cease to exist on April 1, with the new unitary Somerset Council taking over the running of the county's public services.
As part of the transition, new rules have been drawn up for the five planning committees which will determine major planning applications for every corner of Somerset.
But a final decision on the rules has been pushed back to Valentine's Day after councillors and residents attacked the proposals, including limiting the public speaking against applications to three minutes.
The five current councils each have different systems of determining major planning applications (i.e. those not delegated to officers due to their scale, issues surrounding the land, or other public interest matters).
While four of the councils currently have one planning committee or board to decide all such applications, South Somerset has four area committees representing different parts of the district, with a regulation committee above it to provide consistency.
Under the proposed new system, there will be five planning committees on the new unitary authority:
Strategic planning committee (covering strategic issues such as quarries, schools, public rights of way and other such matters)
Somerset East committee (covering the former Mendip area – including Frome, Glastonbury, Shepton Mallet, Street and Wells)
Somerset North committee (covering the former Sedgemoor area – including Bridgwater, Burnham-on-Sea, Cheddar and Highbridge)
Somerset South committee (covering the former South Somerset area – including Chard, Ilminster, Wincanton and Yeovil)
Somerset West committee (covering the former Somerset West and Taunton area – including Minehead, Taunton and Wellington)
Each of the existing councils typically allow an individual objecting to a given planning application three minutes to speak – though the number of speakers allowed for each item varies from council to council.
Under the proposed new rules, objectors would have to share three minutes between them, rather than having three minutes each – a move which has drawn the ire of both councillors and residents.
Fletcher Robinson, trustee of the Somerset branch of the Campaign for the Protection of Rural England (CPRE), made his views known at a meeting of the county council's constitution and governance committee on Monday (January 30).
He said: "The proposal for one single shared three-minute speaking period for objectors is both undemocratic and unworkable in practice.
"According to our research, there is not a single planning authority in the entire country that operates such a draconian system. We are not suggesting that Somerset Council should emulate Exeter City Council, for example, where there is no stated limit on the number of people who may speak.
"But it would be a sad day for local democracy if the new Somerset Council is seen to be engaging in a race for the bottom on such an important matter as public participation. We urge councillors to reject this proposal, and to adopt a transparent, fair and simple procedure."
Councillor Loretta Whetlor – a district councillor for Watchet and Williton – cited her experience of a recent planning committee meeting in Taunton, where dozens spoke out against plans for 136 homes on the B3191 Cleeve HIll in her home town.
She said: "As planning is a key area of council work that residents directly engage with, the current proposal risks making the new council appear remote, undemocratic and indifferent to the views of it residents.
"I do understand the need to cut down the time spent on having a large contingent of public participation, but it must be remembered that residents should be allowed to have their say.
"Planning is a very emotive subject (as can be seen from a contentious application which was recently refused in my ward recently), and it is very important that the new council gets this one right – otherwise the hard work that has been done already to maintain good links with the parishes/towns could be damaged."
Councillor Helen Kay said she was uncomfortable with the strategic planning committee – comprising councillors from all areas of Somerset – being able to overturn decisions by the four other committees.
She said: "It really puts me off standing for the planning committee if the decision I take is just going to be overturned by another committee comprising of people who aren't local to my area."
Councillor Sue Osborne added: "I think we've got the worst of all worlds here."
Councillor Ros Wyke, portfolio holder for development and assets, said she was happy to make changes to the planned structure to ensure the public's views were heard and that decisions were made legally robustly.
Ms Wyke – who currently serves as Mendip leader – said: "What we want at the end of the day is good, robust, transparent decisions on things which are important to people.
"I'm pretty sure we won't get it 100 per cent right first time, but we need to have something that is safe and robust.
"I understand the expressed concerns. I'm more than happy to take this away and bring something back – we need to find a balance and a way through this."
Revised proposals will come back before the committee on February 14.