OPINION: Council disrespects willing Glastonbury volunteers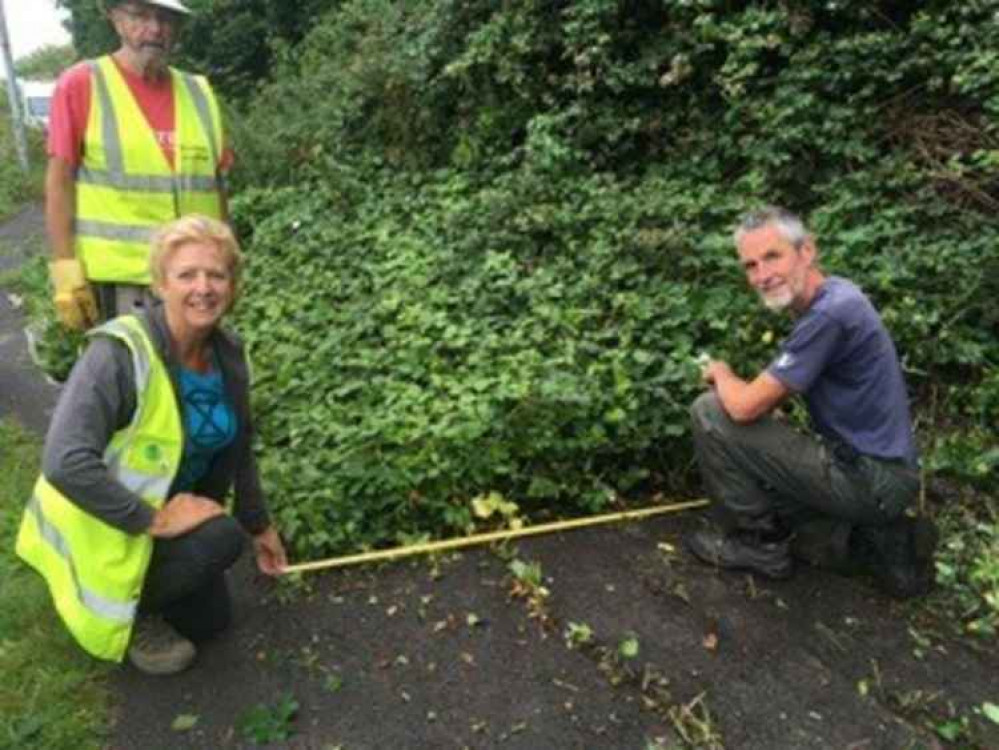 Anthony, Laura and Martin illustrating how only 50cm of path remained before they cleared off all the vegetation
We have had enough! No doubt many volunteer groups feel this from time to time and our group has reached this point now because of a complete lack of support, respect and communication from Somerset County Council (SCC).
We have been clearing the vegetation from the cycle paths in Glastonbury for more than 18 months, which SCC has legal responsibility for – we have that in writing.
We decided to start doing this when local and national government said they supported the public to increase cycling and walking for reasons of physical, mental and environmental health.
We saw how many families and people of all ages were getting out on their bikes, and walking, during lockdown and decided to make it easier for them; some of the brambles covering the shared paths have been more than three centimetres thick!
People who use mobility scooters were very grateful to be able to negotiate the paths for the first time in months and the public generally showed their gratitude by saying so as they saw us working on Sunday mornings and one lady kindly left us a bag of chocolate and juice.
SCC have not been so grateful; we have sent numerous emails to them requesting co-operation, but getting a reply is like getting blood out of a stone.
In October last year we did manage to get an on-site meeting with two council representatives who walked part of the cleared route with us.
They were perfectly friendly and amenable, and we don't blame them for the failure of council to do the job we pay our taxes for; they indicated that lack of money and manpower was the reason that the two-metre wide paths were now down to only about 50 centimetres in places.
We now have more than 150 photographs detailing the work we have done and illustrating the challenge it has posed.
The two representatives said they would support us, share our sterling efforts on the council social media, put us in touch with other volunteer groups known to them, try and get support from the probation service and continue to communicate with us. None of this happened.
Yes, we volunteered, no-one asked us to do it, but we were happy to do our civic duty and help others, with no thought of gain for ourselves. All we sought was co-operation and support from the council.
Our latest email to the Transport Policy Manager (Economic and Community Infrastructure – Commissioning) on May 3 2021, enclosing recent photographs of path clearing, is yet to receive even an acknowledgement, let alone a reply.
So we have had enough and are not going to do it any more. We feel like the council are laughing at us behind our backs.
We have done thousands of pounds worth of work for them over the months yet they would not even pay £45 for the re-sharpening of the hedge trimmer we use to cut back such a volume of vegetation - Glastonbury Town Council kindly paid this bill.
We would like to thank IdVerde, the contractors, for collecting the dumpy bags of clippings we leave on the verge and for being such friendly and helpful communicators.
We would like to acknowledge the public's thanks and the lady who left us the treats. And we would like to thank all the other volunteers, random members of the public, who have come out to assist us from time to time – your help, humour and good company were really appreciated.
Without open and honest, reliable and honourable co-operation and collaboration between council and community, trust will fail, progress will stall and resentment and frustration build. It could all be so different.
Somerset County Council – you have failed us in this regard and you have shown your disrespect and indifference to decent, honest, hard-working, volunteers who were willing to make a difference in their community – and have done. You should be thoroughly ashamed.
By Laura Sorensen