New Glastonbury Town Deal community event taking place this weekend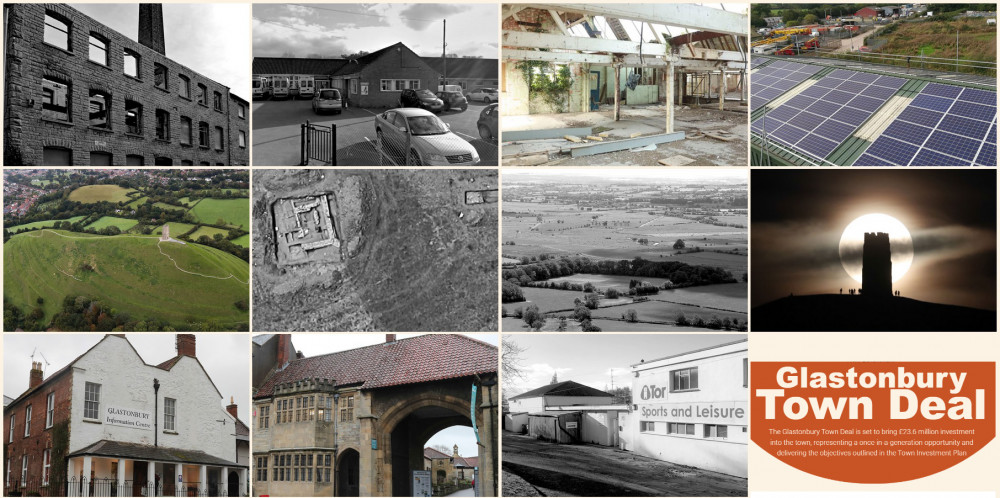 Residents and businesses in and around Glastonbury will have another chance to find out all about the Glastonbury Town Deal as a third community event has been announced, taking place on Saturday 18th March from 11am until 3pm at St John's Church in the centre of town.
Following similar events held in February and November 2022, this latest event will showcase and update the eleven projects that make up the Glastonbury Town Deal, bringing £23.6million government investment into the town.
Two of the eleven Glastonbury Town projects – Glastonbury Community Sports & Leisure Hub and Glastonbury Abbey Piazza – have already been granted planning permission, with several others having filed planning applications or being close to doing so.
Starting this year, the intention is to hold an annual event in March to provide the local community with updates on the progress of each of the Glastonbury Town Deal projects, with all the Town Deal funding having to be spent by the end of March 2026.
Glastonbury Town Deal projects
The eleven confirmed Glastonbury Town Deal projects are as follows:
Regeneration of the historic Baily's Buildings
Repurposing two historic buildings into a sustainable hub for local start-up, small and growing businesses and to deliver employment opportunities. The complex will also house a small, dedicated museum celebrating the town's industrial heritage and be used by educational groups and the community.
Establishment of the Glastonbury Enterprise and Innovation Hub
Re-developing Beckery House into a dedicated centre for the town's vibrant business community. The aim is to help meet demand for affordable flexible managed workspaces and provide support for grow-on businesses, particularly the food and manufacturing sectors.
Regeneration of Building C to establish The Life Factory
Regenerating an iconic building to create a vibrant, shared community resource for all – but particularly young people. It will be an inspiring place to make, create and grow as a community with zones for skills development, arts & craft makers and activities, youth, media, broadcasting and hospitality.
Investing in renewable energy generation and low carbon transport infrastructure. This project will be delivered in collaboration with Beckery Village businesses, community organisations and landowners.
The Robert Richards Initiative
Named after and dedicated to the first Chair of the Glastonbury Town Deal Board, the Robert Richards Initiative is focused on sustainability, bringing together the recurring Town Deal themes of education and training, green infrastructure and wellbeing. Key elements include an innovative website and learning platform; additional sustainability solutions for three buildings set to be refurbished through the Glastonbury Town Deal; and enhanced green infrastructure within the town.
St Brigid's Chapel and Field
Creating a gateway to the understanding of the Pagan and Christian histories of the town. This new, year-round, educational visitor destination, will protect, interpret and make accessible the rich heritage and natural environment of some 33 acres.
Glastonbury Food and Regenerative Farming Centre
A community-led, educational research centre to demonstrate natural methods for growing food, land management and to promote a holistic approach to wellbeing for land, human and animal symbiosis. It will be a place for all age groups to grow together, whilst skill sharing, immersed in nature.
In order to renovate the buildings within the Beckery Village, there are enabling works that are crucial for the whole regeneration of Glastonbury. The purpose of this project is to sustainably improve the situation for the non-bricks and mortar communities.
St Dunstan's House Community Health and Wellbeing Centre
The new health and wellbeing centre will be created in St Dunstan's House next to the Town Hall. It will provide Covid-safe spaces for the community where people and groups can take part in activities and gatherings, access health services, and seek business and employment advice.
This project will enhance the visitor approach and welcome to the abbey. It includes upgraded facilities, retail and reception areas. The creation of a new public space for the town will improve connectivity with the town centre, benefitting the local economy.
Glastonbury Community Sports and Leisure Hub
Revitalising a tired facility into a modern multi-use sports and leisure hub in the heart of the town. The aim is to meet the needs and expectations of users by offering opportunities for sports, training, education, health & wellbeing support, and a place for people of all ages to meet and socialise.
Dr Lynne Sedgmore CBE, Chair of the Glastonbury Town Deal Board, said: "We're starting to see some real, tangible progress with the Glastonbury Town Deal projects now so this is a great opportunity for people to learn about what's been happening behind the scenes, better understand the opportunities and benefits that the eleven projects will bring, and to find out how to get involved as a local supplier or project volunteer.
"These are very exciting times for Glastonbury and we're keen to get as many local residents and businesses involved as possible. This will be our first community event held on a weekend with all projects involved, so we hope that will make the day even more accessible for everyone to come along and find out more."
Glastonbury was one of 101 towns chosen to receive investment through the government's Towns Fund scheme as part of its Levelling Up agenda. Following the submission of comprehensive Business Cases for each project, formal confirmation of £23.6million funding was received in September 2022, securing this once-in-a-generation funding that is set to revitalise the town.
The Glastonbury Town Deal projects aim to deliver a necessary 'levelling up' opportunity for the town, bringing existing assets back into community use, and working with local communities to develop the spaces and resources they want and need. The vision is for Glastonbury to be a sustainable, prosperous, modern town and global tourist centre, drawing on its rural landscape, history and unique legacy.
For further information, visit glastonburytowndeal.co.uk