Mendip's final farewell includes £24,000 of grants to its much-valued community projects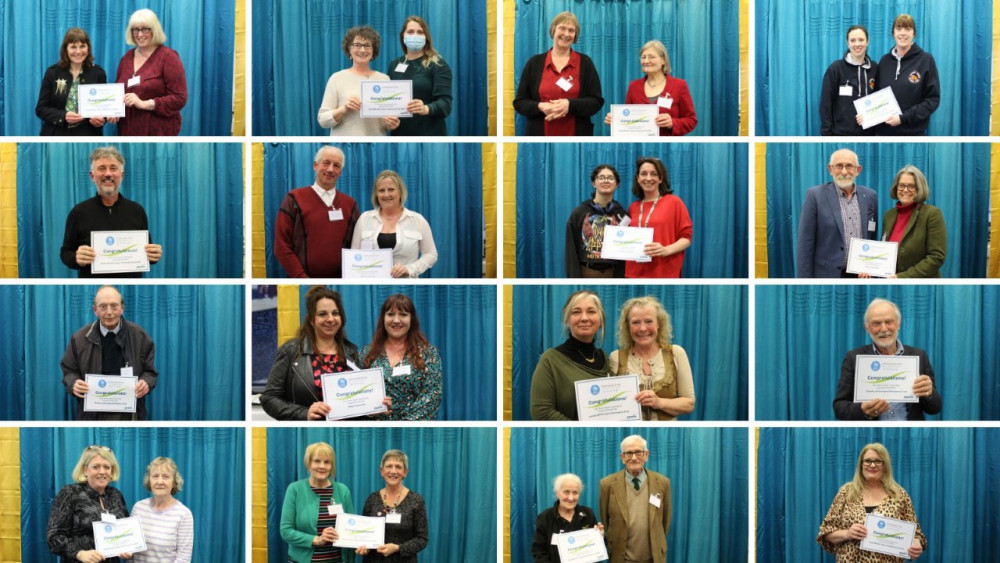 A collage of the community groups accepting their certificates at the awards ceremony at the council offices
Mendip District Council awarded thousands of pounds to good causes at a special awards ceremony hosted at the council offices, in Shepton Mallet.
Community groups and local organisations joined together to celebrate and acknowledge the positive impact they have on our communities and receive grants to continue and boost their crucial work.
Awards were issued to invited guests totalling £24,000, with funding drawn from the Shape Mendip Lottery Community Fund, the Climate and Ecological Emergency Fund and the Chair's Fund.
Successful projects will be investing the cash on community cookery classes, equipment for theatres, floodlights for a netball court, the expansion of a befriending scheme and a new electric motor for a carnival cart – to name a few.
In total, 37 awards were issued on the night to organisations and groups across the whole of the Mendip area.
Representatives from the Council and the judging panel, including Spark Somerset, were present at the awards ceremony. Cllr Helen Sprawson-White awarded the Chair's Fund grants in her final official event as Chair of Mendip District Council, a fitting conclusion to her four-year term.
Leader of Mendip District Council, Cllr Ros Wyke, opened and closed proceedings. She said: "I'm delighted that one of the final acts of Mendip District Council is to celebrate and support our communities and their local projects.
"There are some imaginative projects worthy of support which will be greatly appreciated by the community.''
Cllr Liz Leyshon, Portfolio Holder for Corporate Services and Projects awarded the Shape Mendip Lottery Communities Fund grants and the Climate and Ecological Emergency grants. She said: "These awards are a final farewell and a big thank you from Mendip to the many amazing community groups who work hard to make a positive impact on residents in the district.
"I hope they give community groups some much-needed financial assistance during these difficult times to help them continue delivering their important projects.
"It's really important that we support communities by making grants available because we know how much time and effort volunteers put into these projects. Additionally, these groups are on the ground and know what their communities need and want, and a small amount of money can make a huge difference to them."
Cllr Helen Sprawson-White, Chair of the Council, said: "I'm sure these awards will leave a long-lasting legacy for communities across Mendip.
"I hope these pots of money help make our communities better places to live moving forward.
"The projects submitted for this funding are so worthwhile and vital to these groups and I am proud, as Chair, to be able to assist them in any way I can on behalf of the Council.