Glastonbury Mayor Jon Cousins vows to take Plant Based Treaty vote back to Glastonbury after a motion was narrowly defeated during council vote on 11 October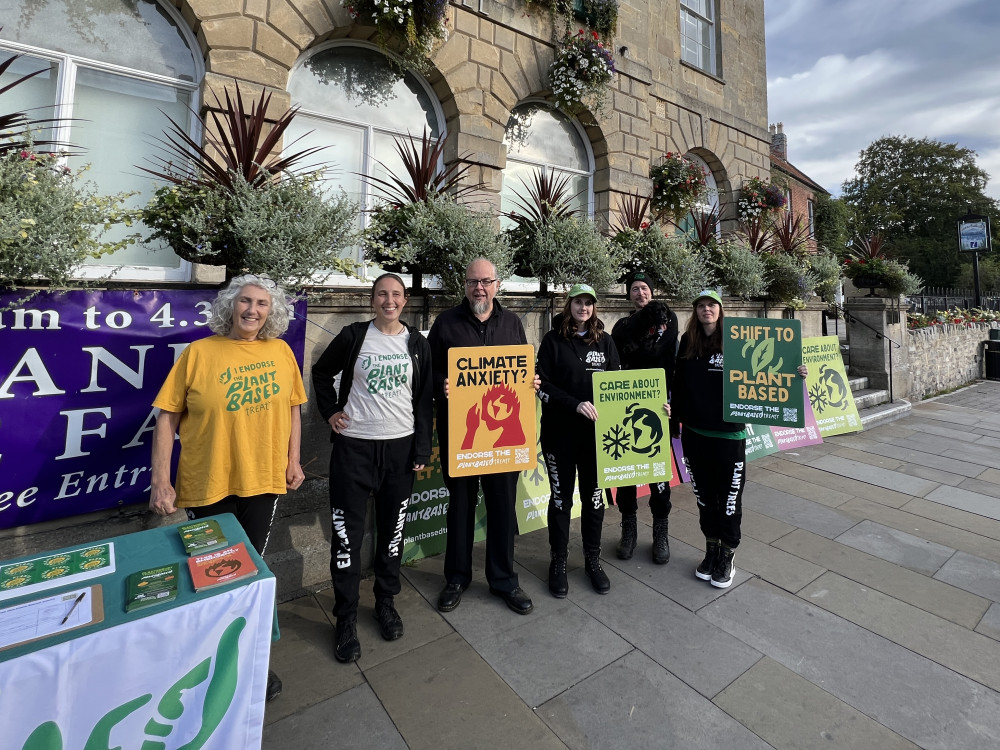 Climate campaigners including the Mayor - at the rally outside Glastonbury Town Hall
On Tuesday 11 October 2022, a Plant Based Treaty motion put forward by Cllr. Lindsay MacDougall and seconded by Cllr. Mike Smyth was narrowly defeated by eight votes to seven following a 45-minute council debate.
Climate campaigners who had maintained a rally outside Glastonbury Town Hall throughout the day, gathered inside the meeting room holding up placards, to witness the debate.
Following the vote, Cllr. Jon Cousins, Mayor of Glastonbury issued a statement, vowing to take the Plant Based Treaty back to the council:
"The motion for Glastonbury Town Council to endorse The Plant Based Treaty was defeated last night by one vote! However, today I have formally signed the Treaty to show my personal support of this campaign that puts food systems at the heart of combating the climate crisis. We need diet change, not climate change. We ignore at our peril the impact of intensive livestock farming on the environment, and I will be taking the motion to endorse The Plant Based Treaty back to Glastonbury in the Spring!"
Nicola Harris, communications director for Plant Based Treaty says:
"We welcome Mayor Jon Cousins' decision to take a Plant Based Treaty motion back for a second vote in the Spring. Plant-based solutions to the climate crisis are key to cutting greenhouse gas emissions and avoiding catastrophic climate breakdown. 6,000 people have signed a petition urging Glastonbury to endorse the Plant Based Treaty and I urge the council to take this mandate to deliver a plant-based food strategy for the town."
On Saturday 15th October, Plant Based Treaty is hosting a Vegan Festival at the Red Brick Building. Free goodie bags are on offer for the first ten visitors when the event opens at 10am. The event which is free during the day includes:
Seed give away
Plant pot decorating family activity
Creative clay sessions
Harmonious beats Drumming workshop with Sean O'Hara
Kitty Stewart singing workshop
Sound healing workshop with Georgie Miller
Geometric drawing workshop
Drawing & colouring mandalas
Willow weaving crafts with Annelies Egli
Heartfulness meditation with Margret Barnes
Guest speakers Jon Cousins Mayor of Glastonbury, Juliet Gellatley from Viva! and Catherine Cannon from Feed Our Future.
From 6pm there will be live performances from Mobius Loop, Kitty Stewart, High Shelf Remedy and Mischa & His Merry Men. Tickets cost £10 and can be purchased directly from the Red Brick Building.
Glastonbury Town Council were set to become the second town in the UK to join the initiative to tackle emissions from animal farming, a key driver of the climate emergency. The proposed Treaty is backed by 18 municipal governments worldwide, including Haywards Heath in the UK and Buenos Aires.
Councilmembers in Los Angeles will vote on a Plant Based Treaty Resolution on 14th October 2022. It was introduced on 6 September 2022 by Councilmembers Paul Koretz and Marqueece Harris-Dawson, and seconded by Kevin de León.
The Plant Based Treaty has secured high-profile endorsements from celebrities including this year's Glastonbury Festival Headliner Paul McCartney. In a joint statement with Mary and Stella McCartney, they said:
"We believe in justice for animals, the environment and people. That's why we support the Plant Based Treaty and urge individuals and governments to sign it."
Background
The Plant Based Treaty is modelled on the Fossil Fuel Non-Proliferation Treaty and inspired by treaties that have addressed the threats of ozone layer depletion and nuclear weapons. The initiative has received support from 55,000 individual endorsers, 5 Nobel laureates, IPCC scientists, more than 1800 NGOs, community groups and businesses, including Ecotricity, Linda McCartney Foods, Oceanic Preservation Society, Environmental Alliance Project and chapters of Greenpeace, Friends of the Earth and Extinction Rebellion.