Ink Druv exhibition at Heart of The Tribe
---
Heart of The Tribe Gallery, 74 High Street, Glastonbury
1st Jun 2023 - 19th Jun 2023
UNTIL Monday 19th June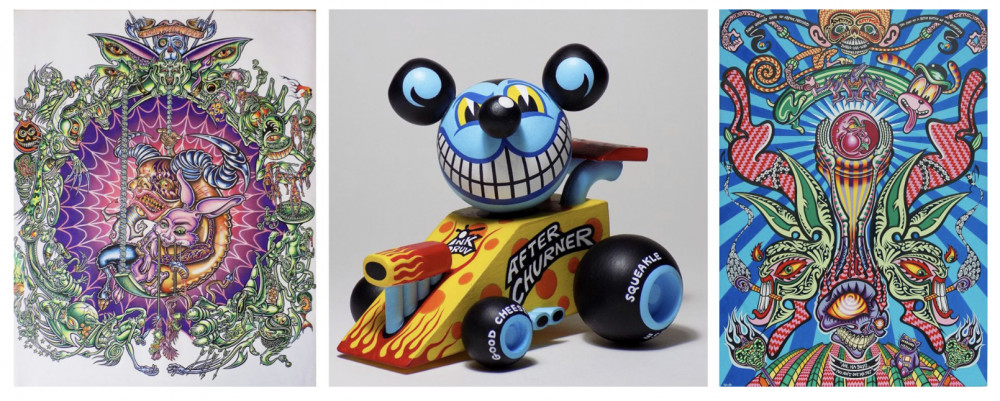 Heart of The Tribe is proud to present 'Ink Druv' an exhibition of work from artist Richard Wood. Opening on Thursday 1st June and running until 19th June.
Richard Wood's artworks have a strong duality to them. Many featuring bright and beautiful colours with recognisable comic characters, yet his works often carry a more serious and slightly gruesome undertone.
Richard originated from Sussex and had lived in the South East for most of his life. He had moved to Somerset and lived in Glastonbury for three years before his untimely death in 2022.
He used 'Ink Druv' as his artistic name. The word 'druv' is an old Sussex dialect simply meaning 'driven'. There is an old Sussex saying which goes;
"You may push and you may shuv, but I'm hemmed if I'll be druv".
This exhibition will take place in Heart of The Tribe Gallery's event space. Richard's family wanted to take the opportunity to share Ink Druv's work with people and allow them to see first-hand Richard's incredible artistic talents. Heart of The Tribe Gallery is delighted to provide a setting where Richard's work can be viewed and appreciated by visitors.
Add your Glastonbury event for FREE here!
Nub It