UP CLOSE: Mandy Kimber, owner of Heritage Estates in Glastonbury
---
---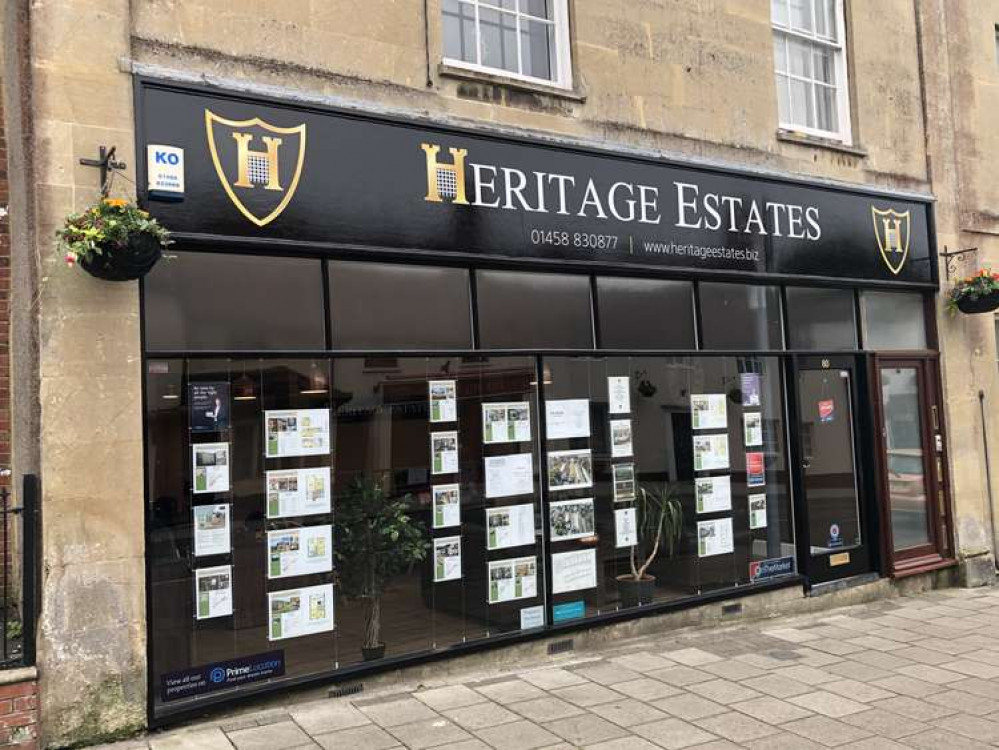 Heritage Estates in Glastonbury High Street
Glastonbury Nub News aims to be supportive to every element of the town's community from business and shops to people and charities, clubs and sports organisations.
We will be profiling some of these businesses and organisations regularly in a feature called 'Up Close in Glastonbury'.
Today, we catch up with Mandy Kimber, the owner of Heritage Estates in Glastonbury High Street, who is the exclusive sponsor of our property section.
In this feature, Mandy talks about how, as someone who is Glastonbury born and bred, the town has changed, and the impact the Covid pandemic has had.
Have you always lived in the Glastonbury area and, if not, what were the key considerations about moving here?
Born and bread in Glastonbury, this has always been my home and I have no thoughts towards moving.
Tell is a bit about your personal business background Mandy, and how you came to run Heritage Estates?
I worked for a local estate agent for many years which gave me my passion to work in property.
Once my son was born I realised it was now or never and decided to take the plunge as they say.
Before this I had various jobs from running a nursing home to a health club, but property is were my heart lies.
What do you like about Glastonbury? How are you involved in the local community?
Over the years Glastonbury has changed a huge amount. As a local town we are very lucky to have most things.
As a local business we are happy and willing to support the local community. It is important to me to shop locally as much as possible, to support local businesses.
The coronavirus pandemic has had an impact on many businesses and organisations - what are your plans?
The recent pandemic has been stressful for us all, however, I have stayed positive throughout and we will get through this - these are challenges to make us stronger.
We are now offering more services to your community, so we are in theory a one stop shop so to speak.
We appreciate it is hard for people to find good reliable tradesman locally. We are very lucky that our tradespeople have been with us many years.
What businesses do you like and use in Glastonbury?
They are many business I like in the town. Recently I have just helped Sons of Asgard and My Fine Deli comes into the High Street, they are both beautiful.
To be honest there are just too many to mention as there are lots that I like and use.
The lockdown was very difficult for many people - how do you think that Glastonbury as a town coped?
The pandemic has hit us hard, I am sure many businesses including myself are extremely thankful for the grant that was allocated by Mendip.
We are lucky as Glastonbury is made of strong people and while it was hard, we are all coming through the other side with a smile - fortunately we are a tourist town and we are able to benefit from this too.
If there was one thing in the town you would change, what would it be?
Glastonbury is like Marmite to be honest, it's not for everyone. If I could change anything it would be to make the High Street a one way system so business can be encouraged to extend to the outside as well to help them flourish.
Glastonbury and the area around it is beautiful - what is your favourite place and why?
As a little girl, my dad would always take me up the Tor daily with the dog so this always has a special place in heart.
I think if I had to choose it would be the Glastonbury Museum in Bere Lane.
If you could choose an actor to play you in a movie about your life, who would it be and why?
Ooh, that's hard… I think it would need to be Meryl Streep.
You can visit the Heritage Estates website here.
See some of our other UP CLOSE profiles:
Alice Coningham, owner of Blossoming Vitality
Lynda Bevan, head teacher of St Dunstan's School
Kelly Ollis, sales executive for Elan Homes in Glastonbury
Jill Barker, owner of Middlewick Holiday Cottages
Dr Jeremy Henzell-Thomas MBE, researcher and presenter
Would you like to be the subject of an UP CLOSE profile or do you know someone who we should feature? Contact [email protected]