Up Close: Lucy Mitchard, Business Development Manager at Melhuish & Saunders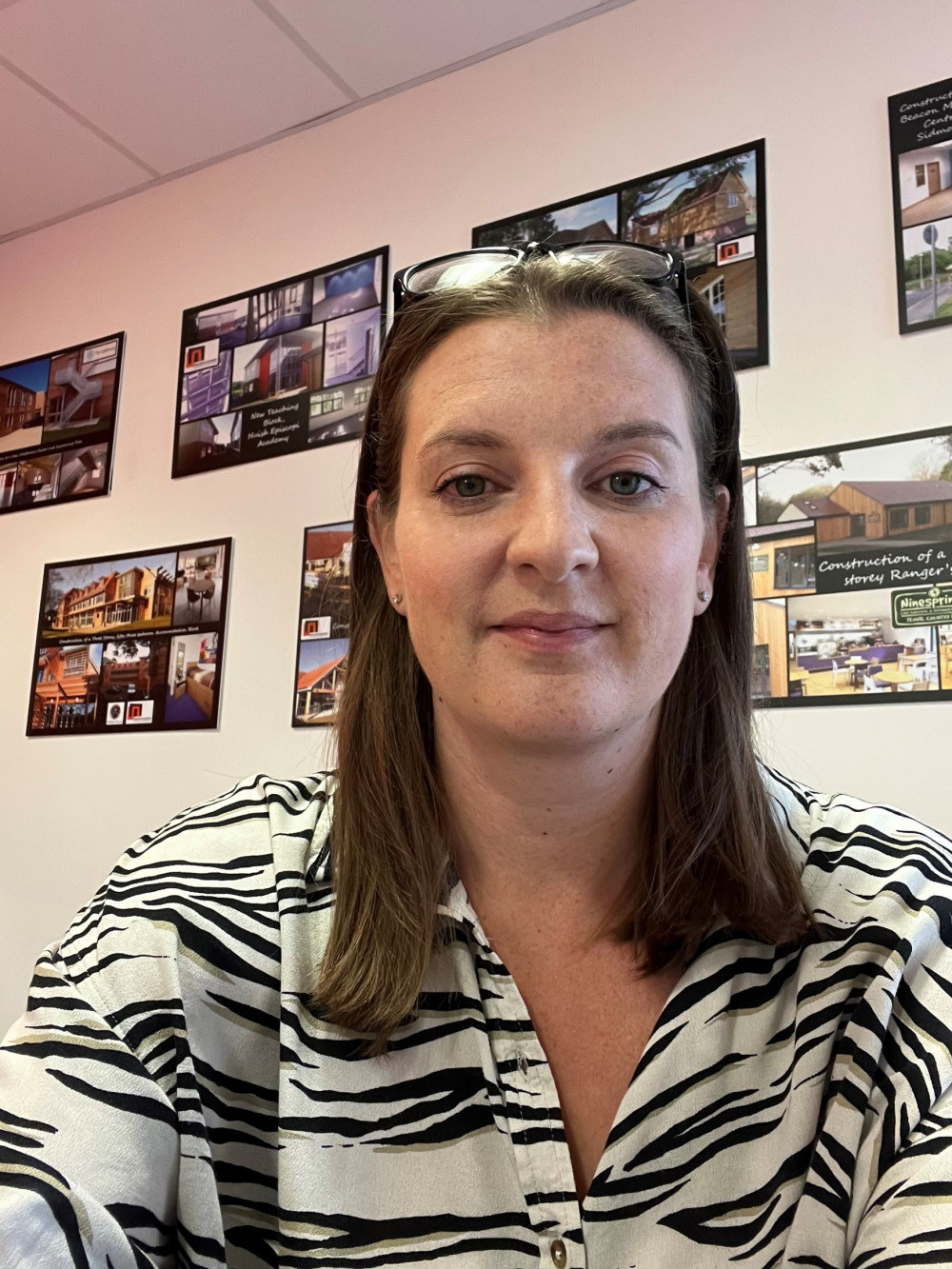 Lucy Mitchard joined Melhuish & Saunders as Business Development Manager in April. Here, she tells us more about her role, the part Melhuish & Saunders plays in the community, and what it's like having her husband as her boss!
When did you join Melhuish and Saunders?
I joined Melhuish & Saunders at the end of April 2022.
What does your job involve?
My job role involves consists of being the first point of contact for new projects, we specialise in projects between 100k and 4.5 million across the South West – we undertake commercial, residential, heritage to either refurbish or to build new however we specialise working in the education, healthcare and community sectors. Another part of my role is managing the marketing and media, we've recently launched our new look and feel newsletter and I've been looking at our links to the community. I keep the business up to date with our accreditations we've recently been reaccredited for our ISO 9001 and CHAS, which helps potential Clients know our processes and procedures meet excellent standards and establishes our credibility and trust.
What do you enjoy most about your job?
My role is really varied and I love to busy, there's always new projects in the pipeline to get to know and plan and prepare for. I'm enjoying learning about the construction industry but also it is quite different from my previous role working in the Public Sector.
Can you tell us a bit about your background?
I started off my career as an apprentice with Mendip District Council in 2001 and had many opportunities over my 21 years to grow my skill sets, starting off in Land Charges, Democratic Services/Members Support, Press Office, Customer Services and my final team Digital Services. When I left my role at the Council earlier this year, I was Digital Channels Manager, managing the Mendip District Council website, Customer Services team which is contracted out to Capita, the corporate Surveys and working on the new Unitary Council. I loved my role at the Council and I worked with so many great people, but the opportunity to work in the family business to help it grow and support Darryl was not an opportunity I wanted to miss.
What do you think makes Melhuish and Saunders special?
What makes Melhuish & Saunders special is that we take drawings, sketches and ideas and make them happen! Everyone here does a great job and takes pride and care in their work. We handover projects that improve facilities for the community, can enable businesses to grow, improve people lives by enhancing their living or working environments.
Have you worked with your husband before? How is it going?
I've never worked for Darryl and leaving Mendip District Council wasn't a decision I took lightly, but I couldn't be happier with my career choice. Darryl is so busy I don't see him very much at work. Our children think it's hilarious that he's my boss!
What do you like about Glastonbury?
Glastonbury is great and it's an exciting time to be working in amongst some great local businesses especially with the Glastonbury Town Deal fund work going on. Glastonbury has so much to offer, I use Tor Leisure to play for Fumblers in the Somervale Ladies Rounder League, frequent visitor to Olive and Gracie and loving the new Middlewick Farm Shop and Café that we were privileged to build and hand over in June 2022!
How does Melhuish and Saunders get involved in the local community?
Melhuish & Saunders have always had strong links to the community, they've supported various local causes by Corporate Sponsorship or by donating their time and expertise.
Recently we entered a golf team to raise funds for Orchard Vale trust a charity that provides lifelong homes for adults with learning difficulties. We had a team of volunteers going out to a location in Shepton to strip back a building for Mind in Somerset so we can advise on what building works they need to arrange to get the building back in use. We are Corporate supporters of Somerset Wildlife trust and new Sport Sponsor for Strode College as well as supporting Glastonbury Nub News.
How was Melhuish and Saunders affected by the pandemic?
The pandemic in the early stages impacted the same as everyone – no one knew what Covid-19 was or what to do for the best, so Darryl took the best decision to shut down until the guidance was issued to keep his staff and clients safe. As construction could operate under Covid restrictions, sites were able to run and office staff could work from home and the office so we could carry on operating.
Are there any particularly interesting projects coming up?
We have lots of live projects underway currently and have some great projects in the pipeline which we can share once confirmed.