Increased police patrols in Glastonbury in a bid to tackle anti-social behaviour and drug crime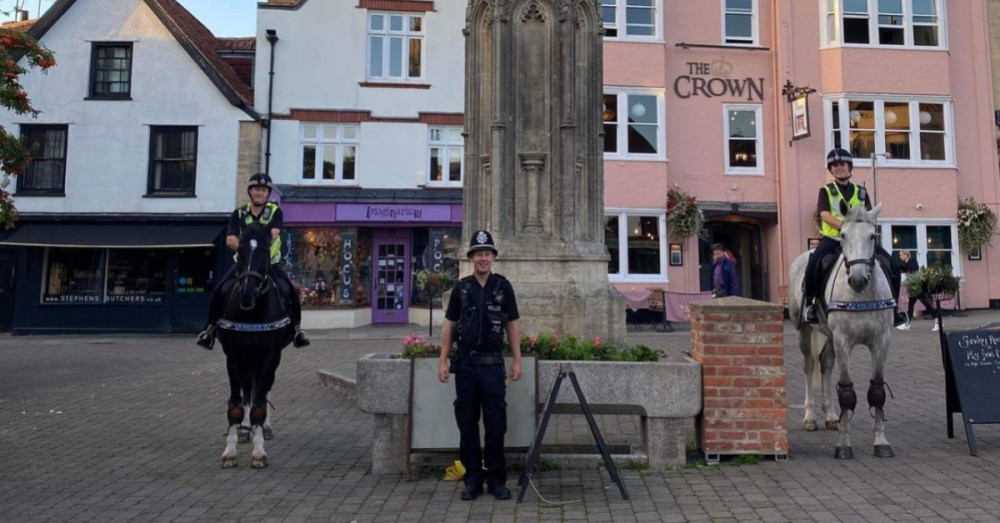 Mounted police will be carrying out more patrols in Glastonbury. Image: Avon and Somerset Police
Police have been stepping up patrols in Glastonbury recently in a bid to tackle anti-social behavoir and drug crime, and to reassure local residents.
Three people were stopped and searched in one evening, which resulted in a knife being found on a woman, who was arrested and taken into custody.
This weekend officers in Glastonbury were conducting stop searches tonight under the Misuse of Drugs Act 1971.
A police spokesman said: "Other shifts have seen alcohol and cannabis being seized and disposed of by the team as well as dealing with reports of ASB in the area. We understand that this could be concerning for the community, and we want to reassure you that you will be working with other local Neighbourhood Teams (NPTs) from around Somerset (as other demand allows) to help maintain a police presence on the High Street to deal with such reports and be a visible presence.
"As well as this presence and help from other NPTs, you will also see a presence from the mounted section, and other police units. Please say hello and make them feel welcome if you see them!
"You will also see the local Neighbourhood Policing Team (NPT) patrolling as normal, and they will also be on bicycles to help patrol the surrounding areas."
The Glastonbury NPT have a few forthcoming 'talk to us' meetings in various locations in Glastonbury, where people can meet the team and talk about any concerns, ask for some crime prevention advice or just say hello! Upcoming dates, places and times for mid-October are October 12, 12pm-1pm at Glastonbury Library, October 17 from 3pm-4pm at KFC, and October 22 from 11am-12pm at Costa Coffee.