Avalon Marshes Mural unveiled for Glastonbury trail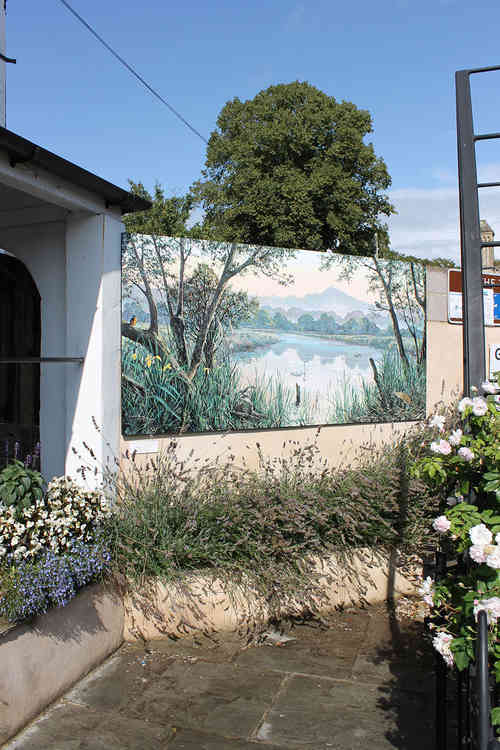 New mural of Avalon Marshes at Glastonbury Tourist Information Centre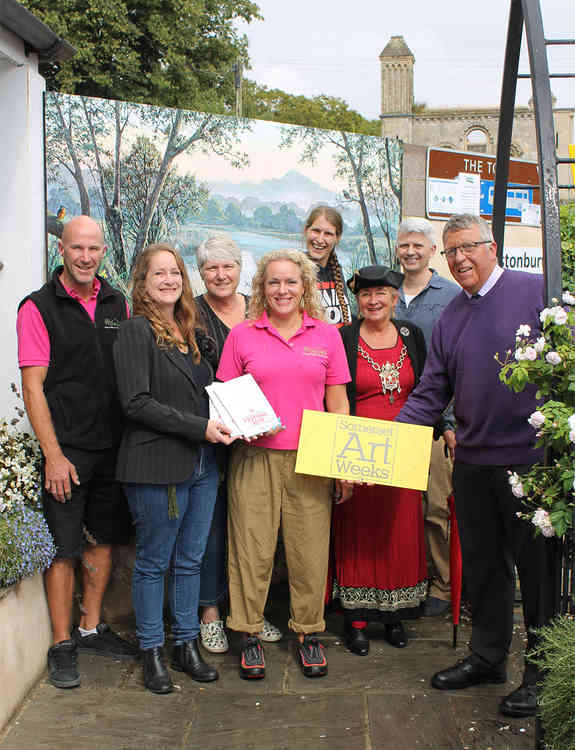 Unveiling of Avalon Marshes Mural at Glastonbury Tourist Information Centre
A unique Glastonbury Mural Trail will take part in Somerset Art Weeks, which celebrates its 25th anniversary this year.
Rather than the normal artist's studio opening its doors, the town has been entered as a piece of art to be celebrated by all.
Glastonbury is renowned for its individuality and the colourful murals that adorn the town, celebrate this individuality.
For the first time ever, a map is being created to take visitors on a tour of the Glastonbury Mural Trail with some murals receiving a bit of fresh love to make sure they're at their best for the occasion.
Glastonbury Town Council and the Glastonbury Chamber of Commerce and Tourism have been leading the project with local artist Kim von Coels of The Krumble Empire managing the mural trail.
A mural was commissioned to mark the start of the trail in the main car park outside the information centre.
Kim enlisted renowned artist, Jonathan Minshull, who has produced many stunning pieces during his career including numerous murals in the UK and California.
Glastonbury town clerk, Gerard Tucker, said: "The town council has a committee which continually looks at ways to encourage more visitors.
"Promoting Glastonbury endorsed the mural trail idea as a means of attracting more people. Simply selling one more cup of coffee every day of the year equates to approximately £1,000 additional spend in the local economy.
"The town council has implemented a number of initiatives including the launch of the Bittern Trail, a walking and cycle route from Glastonbury to the Avalon Marshes Centre.
"Depicting the Avalon Marshes in a mural at a location adjacent to the Information Centre seemed appropriate, as this is the start (or finish) of the trail."
Jill Barker, chair of Glastonbury Chamber of Commerce and Tourism, and owner of Middlewick Holiday Cottages, said: "The Glastonbury Mural Trail is such an exciting initiative for the Glastonbury Chamber of Commerce and Tourism to be involved in.
"By having Glastonbury as a destination venue for Somerset Art Weeks we hope to attract many more visitors to the town which will in turn boost the local economy.
"This project is a great example of how local businesses, town council, accommodation providers and artists can all work together to create great opportunities."
Sponsors were sought to cover costs towards producing the Glastonbury Mural Trail map and new mural commissions.
Tara White from Old Oaks Touring and Glamping Park said: "We first heard about the proposed Glastonbury Mural Trail on Facebook.
"We immediately knew it was a winning idea, especially with Kim Von Coels at the helm. Glastonbury is bursting at the seams with talented artists and the town is the perfect venue for such an innovative and creative idea.
"The Mural Trail will undoubtedly bring many new visitors to the town, who will be able to experience first-hand, what a vibrant, unique and diverse place Glastonbury is, which can only be a good thing for everyone.
"We jumped at the chance to get involved as we know, first hand, the superb quality of Jon Minshull's work.
"He is an extremely talented mural artist, who has already created a number of works around the town, including at our own campsite, just outside Glastonbury.
"Sponsoring Jon was a complete no brainer and we feel privileged that his new masterpiece has pride of place, outside the Glastonbury Information Centre."
Local eco paint manufacturer, Thorndown, are delighted to be sponsoring the paints and supplied the wood paint for Jonathan to create the mural with.
It was his first time working with wood paint and after a little experimentation, found "the paints really good to use and have a real vibrancy in the flesh".
Caroline Thornborough, director of design at Thorndown, said: "Since establishing our new paint factory in Glastonbury last year, we have loved becoming part of such a vibrant and creative community.
"We feel privileged to be a sponsor of the Glastonbury Mural Trail and honoured to have such a talented artist create a truly stunning piece of art with our wood paint."
Thorndown Wood Paint is a high-performing water-based eco paint for the home and garden. As an exterior-grade paint it is perfect for use on the mural as it's highly water-repellent and durable.
Thorndown use architectural exterior-grade VOC free colour pigments that perform at the highest in lightfast and weather resistance tests, so Jonathan's mural of the Avalon Marshes will look beautiful for many years to come.
This new mural was unveiled on Tuesday 6th August at the entrance from the main town car park to St Dunstan's House in Magdalene Street, home of the Glastonbury Tourist Information Centre.
The official launch of the Glastonbury Mural Trail will be held on Friday 20th September to celebrate the start of Somerset Art Weeks on Saturday 21st September, running to Sunday 6th October.
For more information contact Kim on [email protected], or for paint enquiries please get in touch with [email protected].
Up to date information will also be available at Thorndown.co.uk and on the Glastonbury Town Council website.